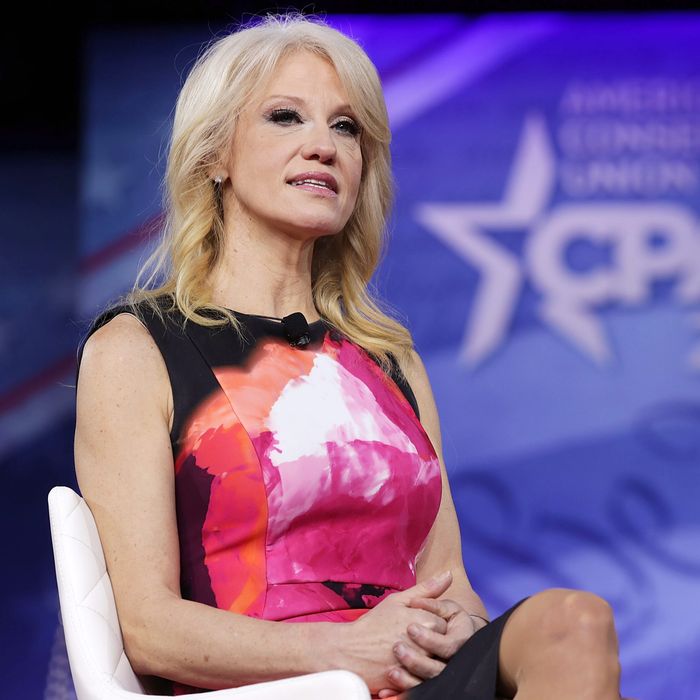 Kellyanne Conway.
Photo: Chip Somodevilla/Getty Images
After Kellyanne Conway urged Fox & Friends viewers to purchase products from Ivanka Trump's line, the U.S. Office of Government Ethics recommended that the counselor to the president be formally disciplined for apparently violating the Standards of Conduct through her "free commercial." However, in a new letter obtained by CNN Money, the White House informed the OGE that it has concluded that Conway acted "without nefarious motive" and is "highly unlikely" to do it again.
Addressed to the OGE from the White House, the letter says that Stefan C. Passantino, deputy counsel for compliance and ethics, met with Conway after she plugged Ivanka's line to review the rules that federal employees are expected to follow, including not endorsing any products or using their position for personal gain. But in a finding that will likely be surprising to approximately no one, Passantino determined that Conway didn't actually mean to break the rules and instead was merely standing up for what she saw as a grave injustice. The letter reads:
"Upon completion of our inquiry, we concluded that Ms. Conway acted inadvertently and is highly unlikely to do so again. It is noted that Ms. Conway made the statement in question in a light, off-hand manner while attempting to stand up for a person she believed had been unfairly treated and did so without nefarious motive or intent to benefit personally."
The White House's letter came two weeks after the OGE found that there was "strong reason to believe" that Conway violated ethics rules during her February 9 Fox News appearance, when she made the comments after news broke that Nordstrom was dropping Ivanka's line (which the president rage-tweeted about as well). Ivanka was reportedly unhappy about Conway's remarks, and the counselor to the president was also hit with a formal ethics complaint by a watchdog. The OGE's letter urged the White House to take disciplinary action against Conway, and noted that she seemed to have escaped any sort of punishment thus far.
Writing to the OGE, Passantino explained that he spoke with Conway both before and after receiving the OGE's letter, and each time advised her that her comments about Ivanka's products "implicated the prohibition on using one's official position to endorse any product or service." He added that Conway "has acknowledged her understanding of the Standards and has reiterated her commitment to abiding by them in the future."