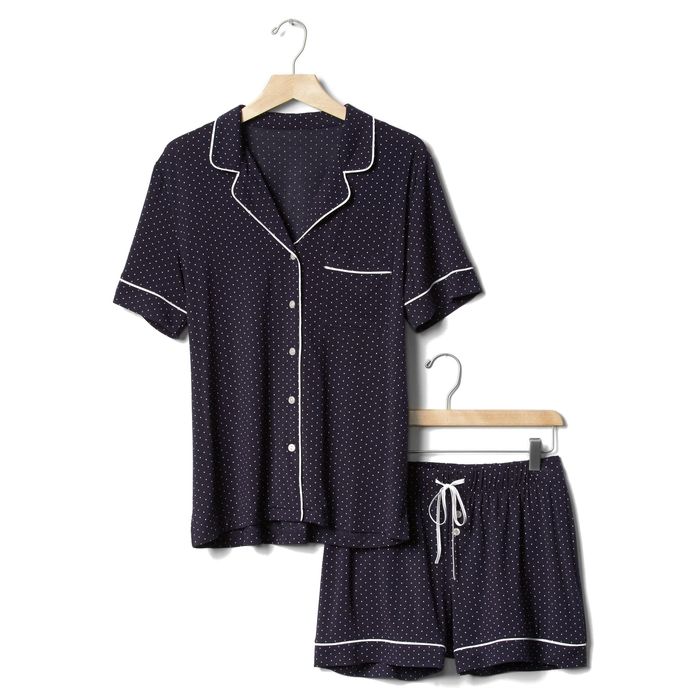 I've always considered pajamas a particularly extravagant purchase. Why spend money on clothes meant exclusively for sleeping (and therefore sweating and drooling) in? Plus, when looking put-together is hard enough to do during the daytime hours, there's something uniquely demoralizing about trying to accomplish it at night. So why not wear something you already have, or, better yet, wear nothing?
Well, first of all, wearing nothing is tricky in instances where you are not alone — or at least not when you're alone with someone you would prefer to not see you naked — and in rooms that have both windows and nearby neighbors.
As for something you already have, well, the world (read: Instagram) would have you believe that waking up in anything less than a wrinkle-free set of matching pajamas is for degenerates who don't wash their face and 20-somethings who passed out in whatever they wore to the bar the night before.
Which is why, against all odds, I've become not just nightwear convert but a pajama proselytizer. My not-so-secret source? The Gap. Perennially available in an ever-changing array of prints and patterns, frequently on sale, and priced well enough that you can buy them in multiples without feeling guilty, Gap's women's pj's are the ultimate gateway to a coordinated sleepwear closet.
Since being introduced to them by a friend a year ago, I've purchased three. (Catch them on sale, and a full set will run you less than $50.) I'm generally partial to cotton over modal, stripes over prints, but currently have my eye on a shorts-and-short-sleeves combo in a spring-y floral mix. (Pro tip: Don't stress about a print selling out. There will be five new ones in its place in no time. Like this one. Or, oooh, butterflies!) There's even a "roll-tab" style that gives you the built-in option looking like you fell out of bed and straight into a J.Crew catalogue. Just add coral lipstick and a coffee mug and let the Instagramming begin.
All of which is to say: They look good, feel good, and make me feel especially put-together when I travel, particularly on group trips. I've become the girl that shows up to breakfast in a pair of striped cotton jams while everyone else rolls up in old college tees and ratty sweats.
While buying dedicated bedwear will forever feel like an extravagance, Gap's offerings have made it one that I can justify, at the very least because bookending one's day with a head-to-toe ensemble goes a long way toward making all the things that happen in between feel a little more stylish, too.
If you buy something through our links, New York may earn an affiliate commission.