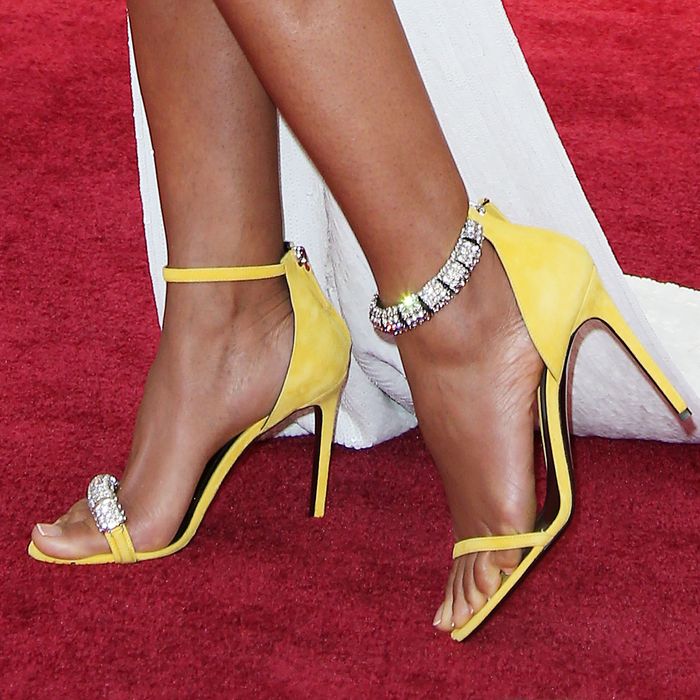 Photo: Dan MacMedan/Getty Images
Wearing two different shoes in public typically indicates an extreme disregard for social norms — it can mean only two things: You're in the middle of a mental breakdown, or your house was on fire and you grabbed whatever you could. So when Naomie Harris wore two artfully mismatched stiletto sandals to the Oscars, after her turn in the award-winning film Moonlight, it turned everything we thought we knew about clashing footwear on its head. First off, the shoes in question were custom-made versions of footwear on Raf Simons's Calvin Klein runway this February. Yellow, suede, covered with crystal embellishments, the shoes were covetable, and the effect was artful, as opposed to wacky.
A far cry from the red-and-green clashing combo Helena Bonham Carter wore to the Golden Globes in 2011, the heels were the same color, and the differences between them were subtle. One featured a bejeweled ankle strap; on the other, it was the front strap that sparkled. Rather than mismatched, perhaps a more apt characterization might be "asymmetrical." And instead of distracting from the rest of Harris's look — a white, over-the-knee dress with an underboob cutout and architectural train — the shoes complemented it, adding a subtle bit of brightness to the otherwise achromatic ensemble. The thin straps and heel helped keep the footwear from overshadowing the dress. "Modern, unexpected, and fresh," is how Harris's stylist, Nola Singer, described the look, noting that she expects to see more of the burgeoning mismatched-shoe trend in the coming seasons.
And though clashing your shoes is meant to be about marching to the beat of your own drum (often unpopularly: Tabloids rejoiced last year when Lady Gaga wore two different-colored Gucci shoes to the 2016 Super Bowl, and Zayn Malik wore a sneaker with a boot while hiking), where Raf goes, the fashion world will certainly follow. Known avant-gardist John Galliano also added a degree of asymmetry to his ankle boots for Margiela this season, festooning one with either a belt buckle or chain, and leaving the other bare. Demna Gvasalia's hugely buzzed-about collection for Balenciaga, meanwhile, featured now-famous pumps emblazoned with the brand's name in Bernie Sanders's signature campaign font. Again, there are slight differences in the way the writing appears on each shoe: On one, it's emblazoned from the front to the side; on the other, it's smaller and pushed back. Gvasalia's has used Sanders's typeface in his collections before (see: spring 2017 menswear), but for this latest outing, he seems to be underscoring the importance of keeping the difference and liberty that — for many — the politician still represents, even in a hypertense, repressive era. It's not about getting dressed in the dark, but getting dressed in a dark time.
Notably, none of these statements was about color — Céline did that last season, pairing red ankle boots with white ones, brown with black, in a trend that never really took hold, despite the collection's vast success. The way forward for mismatched shoes seems to lie not in clashing hues, but rather in the details. It's subtle, not shocking — and much more wearable than, say, a red shoe paired with a green one. Nonetheless, Philo's willingness to push us past our comfort zones is what made Raf's subtle mismatch seem totally normal. And in Philo's case, one guesses that she was making more of a comment on women today — their schedules, the randomness of their process for dressing, even their sanity.
If you Google the phrase "mismatched shoes," you'll come across a footwear store in New Zealand, a service for people with different-sized feet, and finally, a smattering of trend pieces in lady magazines making the inevitable reference to getting dressed in the dark.
Further internet research on the subject inevitably leads down the road of Punky Brewster, the fictional '90s TV character whose kitschy style famously featured mismatched sneakers. There's been a surprising amount of literature written about this sitcom, including sociological debate about whether the character (she was 7) is feminist. The shoes play into it thusly: Mismatching one's shoes, by popular estimation, is either a careless (albeit implausible) mistake, or a flagrant display of insouciance, the ultimate declaration of individuality. Just look at Bonham Carter (who was, as it happens, bashed for her Globes footwear choices that year).
After all, the desire to match is, in a sense, part of our DNA. In nature, there's a phenomenon called fluctuating asymmetry, defined, appropriately enough, as "small deviations from perfect symmetry" that occur in animals and structures. It affects the way we perceive beauty, and alas, sexual and natural selection favors the balanced. In short: The more asymmetrical you are, the less attractive others will find you. (That said, some studies have found that just slight imperfections are actually the most desirable.) Is it too much of a stretch to apply this school of thought to shoes? Asymmetry has long been perfectly acceptable in clothing, a fact fall 2017 cast into sharp relief. Disproportionate coats; larger on, or listing to, one side at Balenciaga (again); uneven lapels at Stella McCartney; and one-shouldered bandage dresses at Proenza Schouler were just a few examples of the latest takes on attractively lopsided dressing. But when it comes to shoes, balance —literally and visually — has always been the norm.
So are the asymmetrical shoes we saw for fall flouting the conventional idea of beauty? Maybe. Or, by introducing slight deviations, rather than over-the-top clashing, are designers — consciously or not — actually tapping into some of our most inborn preferences? Is the fashion du jour becoming a form of protest, right down to the high heels? Or is it, at the end of the day, fashion just being fashion, ever in pursuit of the next different idea? After all, as Harris proved at the Oscars, a little bit of change can be a beautiful thing.