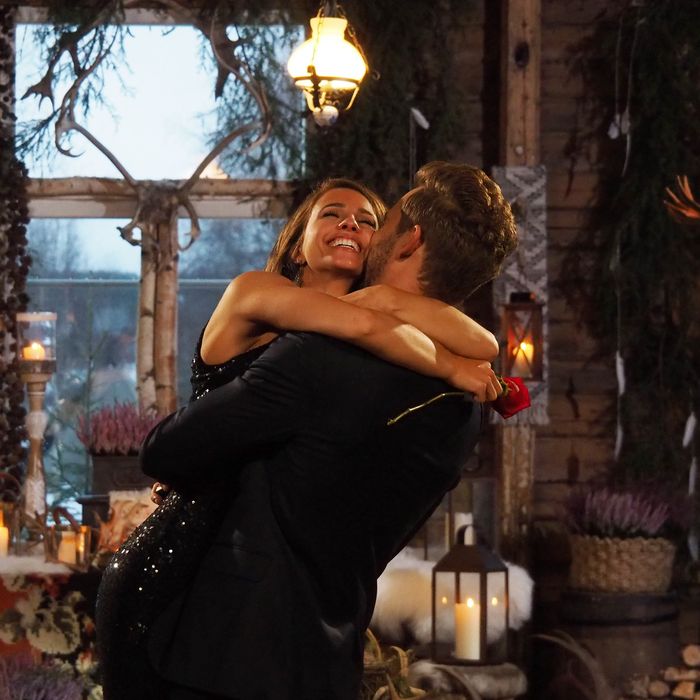 Nick and Vanessa on The Bachelor.
Photo: Terhi Tuovinen/ABC
Last night, we learned that tearstained beard-hunk Nick Viall and silky-haired special-ed instructor Vanessa Grimaldi got engaged on the season finale of The Bachelor, a milestone they describe with all the enthusiasm of a couple navigating a family medical crisis. "Some days have been easier than others," grimaced Vanessa. "We've had our struggles," said Nick, panic flickering behind his eyes.
But the challenge now goes beyond merely trying to figure out how two near-strangers with disparate lives can find lasting compatibility after a handful of televised date nights. Now Nick and Vanessa face the exciting task of navigating the U.S. immigration process.
Contrary to what certain GOP lawmakers may have indicated about the American immigration system, moving to the States isn't such an easy process, even with the force of 1,000 roses at your back. On last night's "After The Final Rose" ceremony, Vanessa, who is Canadian, said that she plans to join Nick in the U.S. "I'm in the process of putting together a charity for people with learning disabilities, so I'm kind of taking my life from Montreal with me," she said. "We're just making sure we go through the proper channels, y'know," adds Nick.
But according to immigration lawyer and CEO of VisaPlace Michael Niren, Vanessa and Nick have a lot of bureaucracy to tackle before they can begin their life together. "It can be draconian. The process is very difficult for a lot of people, even Canadians who are used to crossing the border to the U.S. pretty seamlessly," Niren tells me.

Here are some of Vanessa's options:
- A K-1 fiancée visa: The most obvious option for Vanessa would be getting what's known as a fiancée visa, but that would require her and Nick to get married almost immediately — which neither of them seem in a position to do, seeing as they both acknowledge that they barely know each other. "There's a lot of paperwork," says Niren. "But if she's going to go down that route and she's going to ultimately want to stay, she's going to have to get married within 90 days of being admitted and then file a further application proving she's married and waiting for an interview confirming the relationship's genuine. There's a whole rigamarole."
- An employment visa like a TN or H-1B, which would require Vanessa to procure a job offer in the United States: "These visas require a job offer, and it's not easy," explains Niren, adding that both visa categories are likely to experience some sort of crackdown under Trump. "For a TN you have to have a job on an occupation list [while college and university teachers are on the list, special-ed teacher is not], whereas for an H-1B you have to typically be a specialty worker, meaning that you have to have a certain level of education, usually a college degree, and the employer has to go through a lot of paperwork to get you here," he says. "The other challenge [with the H-1b] is it's a lottery system — you file April 1 and then you're in a pool of thousands and thousands of applicants. And if your number doesn't come up? Too bad."
- Another type of business visa: Vanessa says she plans to start a charity, which we don't have many details about. But, if she's already a business owner or executive in Canada and the business wants to expand into the United States, Niren says there's a chance she could transfer herself down on an L-1 visa. That said, she couldn't just start a company from scratch — "it has to at least have a preexisting concern at Canada for at least one year." There's also the E-2 visa, which requires "a substantial investment" in a business venture in the United States. "You'd have to show that it's a viable business and you'll be actively managing it," explains Niren. "But it really depends, does she have any capital to exist, does she have a real good business plan, is it viable?"
- An O-1 artist visa: This is a visa for individuals with "extraordinary ability" in the arts, which Vanessa could perhaps qualify for as an actress or reality-television personality. But it's not a sure thing. "If it's just a one-hit-wonder and she's not going to do anything beyond [The Bachelor] — let's say she doesn't have another gig, and does she have an agent — it's going to be hard," says Niren. While having the might of ABC behind her would certainly add credibility to her application (for example, if the network offered her TV appearances or spin-offs in the future) coming down on an O-1 would mean she plans to continue pursuing employment in the entertainment industry, which it doesn't seem like she's set on. "If she's applying as an O-1 that suggests she's coming to the U.S. to pursue that career and she has enough of a resume to justify an approval, and when I say a resume I mean something beyond one show," he explains.
In conclusion, "being a Bachelor or Bachelorette in and of itself isn't of a ticket to status in the U.S.," Niren says. For the millions of Canadians hoping that a Bachelor marriage is their ticket to a green card, it's time to get back to the drawing board.