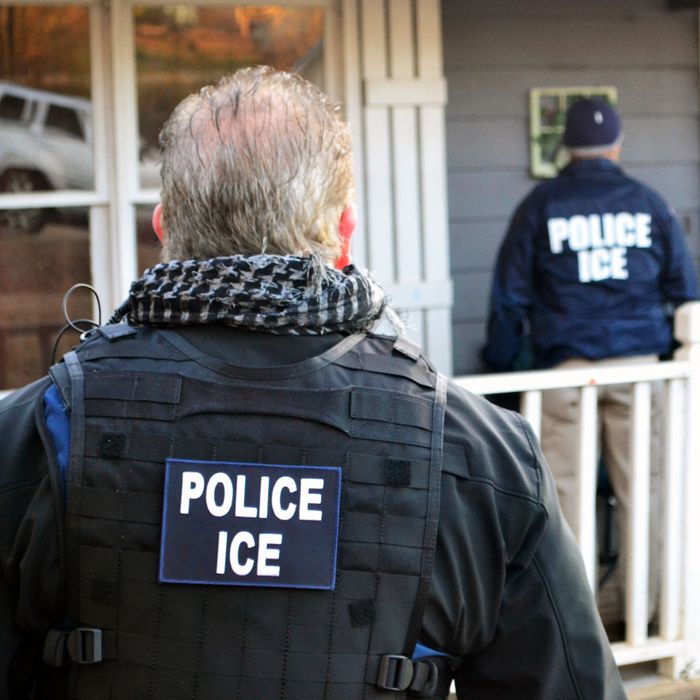 Denver's immigrant community is wary of ICE agents staking out courthouses.
Photo: Getty Images
After a nationwide immigration crackdown that may or may not have been tied to the Trump administration's executive order expanding the classifications for prioritized deportations, at least four women in Denver have dropped domestic-abuse cases for fear of being deported, NPR reports.
Denver city attorney Kristin Bronson told NPR that all four women were victims of "violent assault," and since Trump's January 25 executive order, "those four women have let our office know they were not willing to proceed with the case for fear that they would be spotted in the courthouse."
"Without victims willing to testify we've had to dismiss those charges and the violent offenders have seen no consequences for their violent acts," Bronson added.
She said the women chose to drop charges after a video was circulated showing Immigration and Customs Enforcement agents waiting to arrest a man in the hallway of a Denver courthouse. Although federal guidelines designate schools, hospitals, and churches as "sensitive areas" where agents should avoid making arrests, there's no such designation for courthouses.
ICE agents made arrests at courthouses in President Obama's day, Whitney Leeds — an immigration attorney — told NPR in an interview earlier this month. But she added that she expects even more courthouse arrests under Trump "first because Trump's executive orders call for thousands of additional ICE agents to be hired. And secondly because he has prioritized for deportation not only any person who is here without lawful status, but also any person who's ever been arrested for a crime."
It's not uncommon for abusers to use their victims' immigrant status as a way to trap them in the relationship, Cecelia Friedman Levin, senior policy counsel for an organization that supports attorneys who work with domestic violence victims, told Mother Jones. She added that incidents like the one in Texas, when ICE agents arrested a woman who was seeking a protective order against an abusive ex, "[lend] credibility to the threats of abusers."
"It puts enormous power and control in the hands of the abuser to say, 'See what happened in El Paso? The same thing is going to happen to you if you reach out for help,'" she said.