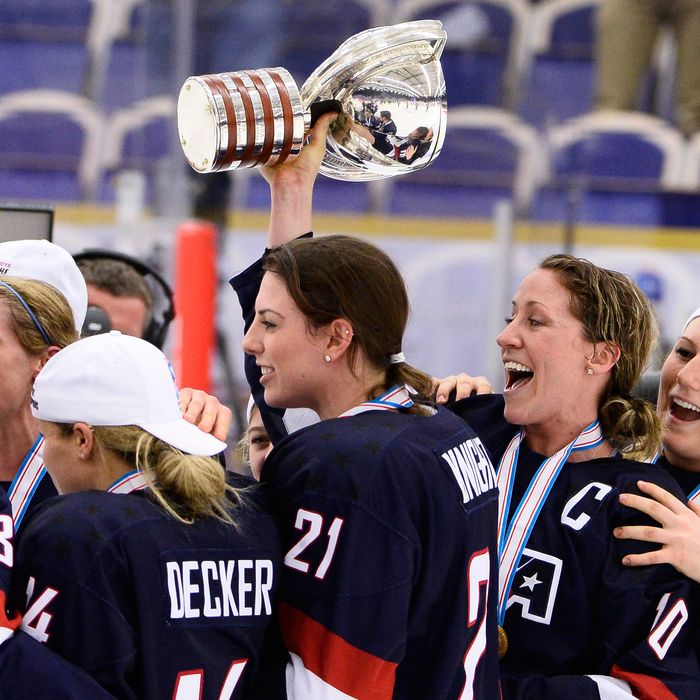 Team USA players are fighting for equal treatment.
Photo: Claudio Bresciani/AP
The U.S. women's national hockey team, which is constantly sparring with Canada for the title of world's best, will sit out this year's IIHF World Championship in Plymouth, Michigan, on March 31. The team announced the decision Wednesday, citing stalled negotiations over fair wages.
"We are asking for a living wage and for USA Hockey to fully support its programs for women and girls and stop treating us like an afterthought," team captain Meghan Duggan told ESPN. "We have represented our country with dignity and deserve to be treated with fairness and respect."
The team is seeking a contract with USA Hockey that includes fair pay, as well as support for "youth team development, equipment, travel expenses, hotel accommodations, meals, staffing, transportation, marketing, and publicity." According to ESPN, USA Hockey has traditionally paid women $1,000 a month during the six-month Olympic residency period, and "virtually nothing" during the rest of the four-year period — even though players are expected to play and compete full-time.
That means women on the team have to choose between playing for the team and earning a living wage. "Sadly it becomes a decision between chasing your dream or giving in to the reality of the financial burden," player Jocelyne Lamoureux-Davidson said. "That is the conversation my husband and I are having right now."
But USA Hockey reportedly spends around $3.5 million a year to finance more than 60 games for boys in its national-team development program. The team's lawyers are citing the program as a violation of the Ted Stevens Olympic and Amateur Sports Act — in accordance with the act, the league is "[required] to provide equitable support and encouragement for participation by women where, as is the case with hockey, separate programs for male and female athletes are conducted on a national basis."
"It's hard to believe that, in 2017, we still have to fight so hard for basic equitable support," said assistant captain Monique Lamoureux-Morando. "[But] it's well overdue for us to speak up about unfair treatment."