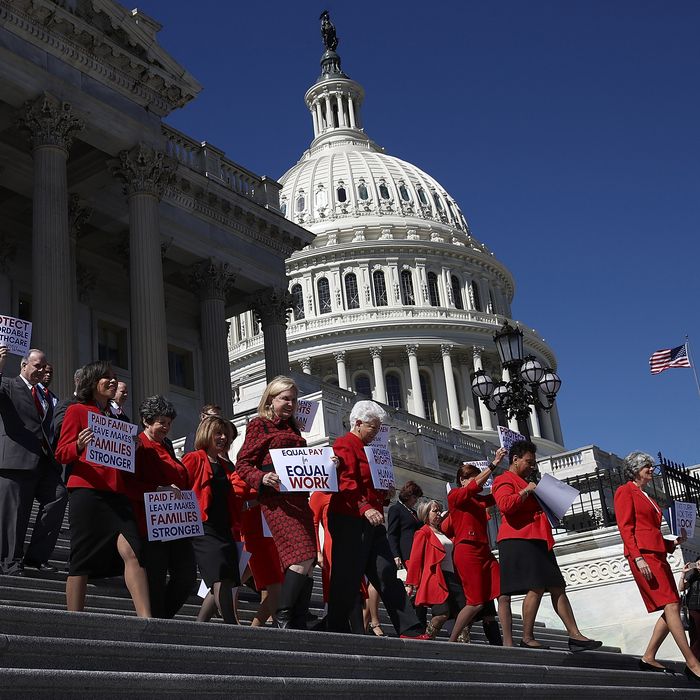 On strike – if momentarily.
Photo: Win McNamee/Getty Images
Women went on strike across the nation Wednesday in a mass demonstration aimed at illustrating their often overlooked contributions to society and the economy. Timed to coincide with International Women's Day, the strike, dubbed "A Day Without a Woman" and the Women's Strike, called on women to not work, not shop, and to wear red in solidarity with women everywhere who cannot afford to join them.
A protest kicked off at noon in New York City, with demonstrators gathering in Columbus Circle. Organizers of the Women's March, who were also involved in the planning of Wednesday's demonstrations, took to the street outside of the Trump International Hotel "as a form of civil disobedience." They were arrested.
Meanwhile, in D.C., a handful of women U.S. representatives walked out of the Capitol and held an event on its steps honoring International Women's Day. House Democratic Leader Nancy Pelosi, of California, was the most high-profile member of the walkout, which included at least nine other congresswomen, and was greeted by an enthusiastic crowd of supporters.
"We walked out today for 'A Day Without a Woman' to send a clear message: that we stand with our sisters across the country who have walked out in defense of equal rights for women … We are raising our voices for the millions of women who can't," said Representative Barbara Lee of California. The congresswomen eventually returned to the chamber, where they would take part in a typical workday.
The strike's goal was to make clear "the enormous value that women of all backgrounds add to our socio-economic system–while receiving lower wages and experiencing greater inequities, vulnerability to discrimination, sexual harassment, and job insecurity," wrote organizers of the Women's March.
Women were encouraged to forego any duty that feels like "work," from diapering and dishes to wearing makeup and putting on fake smiles.
The White House released a statement Wednesday "to celebrate and reflect upon the meaningful progress women have made throughout society." The statement also declared the Trump administration's intention to "advance the economic empowerment of women." Asked at Wednesday's White House press briefing if any women in the Trump administration were skipping work as a part of the Women's Strike, Press Secretary Sean Spicer said he's "not aware of any [staff] that are not here."
Inspiration for the strike came from a similar demonstration called "A Day Without an Immigrant" that sought to remind people of the grueling, unnoticed work so many immigrants perform in the U.S. That strike shut down businesses across the nation, while the Women's Strike appears to be hitting schools the hardest.
That makes sense. Women make up three-quarters of teachers, and their planned participation in Wednesday's strike has led a handful of school districts, in cities such as Alexandria, Virginia, and Chapel Hill, North Carolina, to take the day off.
The strike has received some criticism for excluding working-class women who can't afford to miss work or may lose their job for doing so. But organizers have pushed back against that. And as the editors of the Cut wrote in the only piece published here on Wednesday, even with lingering questions about inclusivity, they "decided to strike today to show solidarity with the women around the world who are standing up for equal pay and equal opportunity, reproductive freedom, an end to sexual assaults, an end to bigotry of all kinds, and policies that support our families, like parental leave, health care, and child care."
Watch what International Women's Day looked like in New York City in the video below.