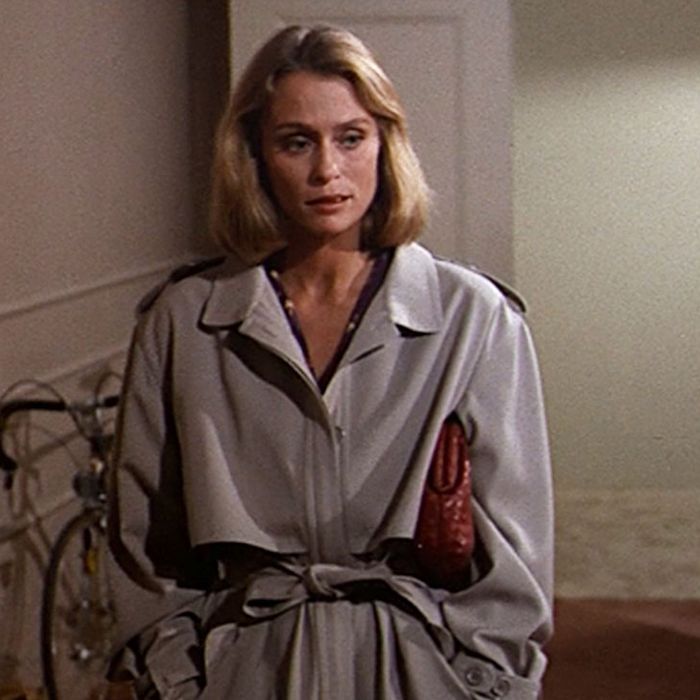 Lauren Hutton carries a Bottega Veneta clutch in American Gigolo.
Throughout the 1980 movie American Gigolo, Lauren Hutton's unhappy-senator's-wife character, Michelle, carries a Bottega Veneta clutch. The soft, woven-leather style is in a particular shade of red and can be found casually tucked under her arm whether she's wearing a beige trench, a ruffled blouse, or a sleek purple top. Following the movie, the bag was subsequently returned to the brand's archives, presumably to never be seen again barring a very special moment in time.
2016 was that year: Not only was Bottega Veneta celebrating its 50th anniversary, designer Tomas Maier also marked 15 years overseeing the brand. So what better way to commemorate the two occasions than to ask Lauren Hutton to walk their show last September? In honor of her runway appearance, Bottega Veneta went into their archives and pulled out the exact bag from the movie. Paired with a trench, it served as a nod to Hutton's stylish character from the movie.
And now the brand has decided to release a limited run of the bag as well. The oversized woven-leather clutch is appropriately renamed "The Lauren 1980," to commemorate the film. It'll come in one exclusive color, "gigolo red," and run you $2,150. Considering that 37 years later, the clutch looks as elegant and fresh as it did in the movie, there's a pretty good argument for investing in this classic bag.
Bottega Veneta, 650 Madison Avenue; 212-371-5511.
If you buy something through our links, New York may earn an affiliate commission.