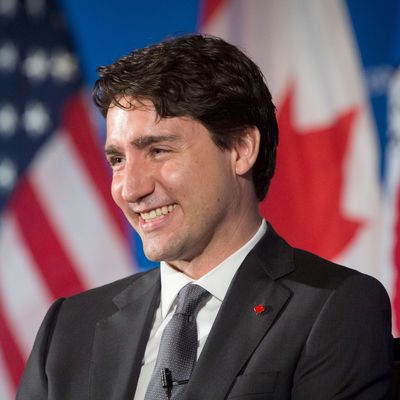 Justin Trudeau, present day.
Photo: Drew Angerer/Getty Images
What's the acceptable amount of man jewelry to wear? An Anthony Bourdain–esque thumb ring? A stack of bracelets like your least favorite guy in yoga class? If you're asking me, I say none. If you're asking a young Justin Trudeau, well, that's a different story.
A Twitter moment recently compiled old photos of the widely lusted-after Canadian prime minister. And aside from the fact that he was (shockingly) conventionally handsome, he apparently also had quite the collection of necklaces.
Here he is shirtless, with a red beaded one:
And here he is semi-shirtless, wearing a either a rock or a shell on a string:
And in this one, he's discovered that you can in fact wear a shirt and a necklace at the same time:
Still better than his goatee and chunky ring phase.