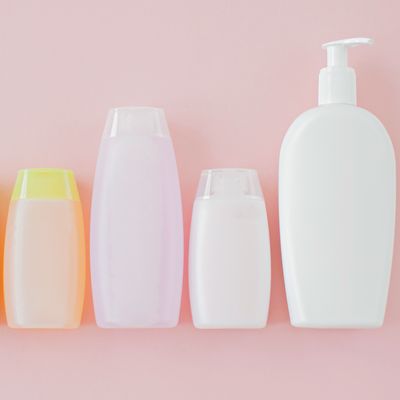 Photo: Letizia Le Fur/Getty Images/Onoky
There's a fair chance chemical 1,4-dioxane hasn't crossed your radar, but it's everywhere, and now senators Charles Schumer and Kirsten Gillibrand are petitioning the Food and Drug Administration to ban the ingredient from personal-care products because of its potentially cancerous effect, according to a report from the Hill.
Used as a solvent in everyday items that range from shampoos and liquid soaps, to lotions and household cleaning products, 1,4-dioxane has been classified by the Environmental Protection Agency and the U.S. Department of Health and Human Services as a likely carcinogen to humans. Still, brands continue to use the ingredient, as the FDA — the regulatory agency for cosmetics — has not prohibited its use. Not all companies are required to list 1,4-dioxane on product labels, either, which further muddles the scale of its reach.
"The fact that 1,4-dioxane, a potentially dangerous chemical, is hiding out in everyday products expected to make us clean is very disturbing, and to make matters worse, likely carcinogens like this one can be even more harmful to kids," wrote Senator Schumer in a statement.
Schumer and Gillibrand were motivated to call for the ban after concentrations of the chemical that posed a one-in-a-million cancer risk were found in 71 percent of Long Island water suppliers subject to testing. That may not seem alarming, but in contrast, only 6.9 percent of water suppliers nationwide detected 1,4-dioxane in levels that posed the same cancer risk. In 2008, the Environmental Working Group — a human-health and environment-protection nonprofit — found that 46 percent of personal-care items contained the potentially cancerous compound.
By petitioning the FDA to ban 1,4-dioxane, the senators are hoping to clamp the spread of the chemical in New York's — and the United States' — water supply for good.