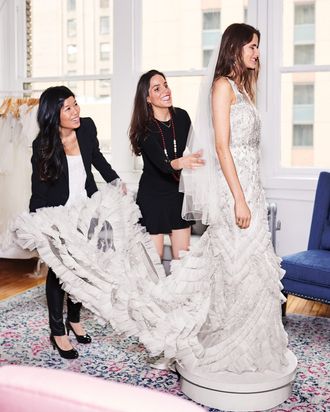 Ana Perez and Jacquelyn Ward of Our Story Bridal.
Photo: Kyle Dorosz
The Gown Dealers
"We get a lot of ecoconscious brides: Pre-owned dresses don't feel wasteful. And our dresses still look like new."
Ana Perez and Jacquelyn Ward, owners of Our Story Bridal consignment shop
Why open a consignment bridal shop?
Ana Perez: First of all, we were shocked that there were no other bridal-gown consignment shops in New York. We're the first. Before we launched the shop last year, I resold my own dress. I put pictures of it all over the internet and invited people to come check it out in person at my place. I put the dress on a mannequin, had a veil for people to try on. I realized that brides, even when they're buying consignment, still want that magical experience of the dress shopping.
Jacquelyn Ward: People might think that because they're getting a great discount, they'll have to deal with people grabbing at racks — a run of the brides. But we're appointment only; brides have one-on-one appointments with a consultant, surrounded by soft-purple décor. And Champagne.
How much can a bride save going this route?
AP: We'll get you a like-new dress for about 50 percent off, or even as much as 80. We have a Vera Wang ball gown, originally $9,600, for $3,800. A gorgeous Pronovias gown with an illusion neckline just sold for $1,600, down from $2,495. The general range is from $800 to $6,000, with the majority between $1,000 and $3,500.
Besides the steep discount, why should brides shop with you?
AP: One big benefit is that the selection, while diverse, isn't so big that it's overwhelming. We have about 400 dresses right now: Jenny Packham, Vera Wang, Pronovias, Monique Lhuillier, Carolina Herrera, Anna Campbell, plus some more under-the-radar names like Lucia Cornejo from Argentina. Also, these dresses have been altered to street sizes by the previous owner, so dresses often fit without major alterations.
JW: We also have an on-site tailor to provide an expert opinion on the sizing. Depending on the dress, we can comfortably alter it four sizes down or one size up.
Do your clients come in skeptical about consignment bridal?
JW: Sometimes brides don't realize we're a consignment shop and think we're a sample sale, so it's more the initial confusion than skepticism. We did have one bride in recently who was very hesitant — but she had only three months to her wedding date, and she was able to find an Oscar de la Renta dress in an hour, and it fit like a glove. We personalized it with delicate off-shoulder sleeves and made a cathedral veil. The dress was 50 percent off retail — she later let us know she was able to take a trip to the Caribbean with the money she saved.
So you can make design alterations to the dresses?
JW: Yes. In addition to making custom veils, we can add details to the dresses like cap sleeves, corset backs, illusion necklines. And everyone wants that now; no one wants to wear the same exact dress they saw on social media.
646-653-2672; ourstorybridal.com
"Don't assume that in order to get a great discount you need to deal with chaos. It's easier to make your decision when you're in a calm, intimate setting."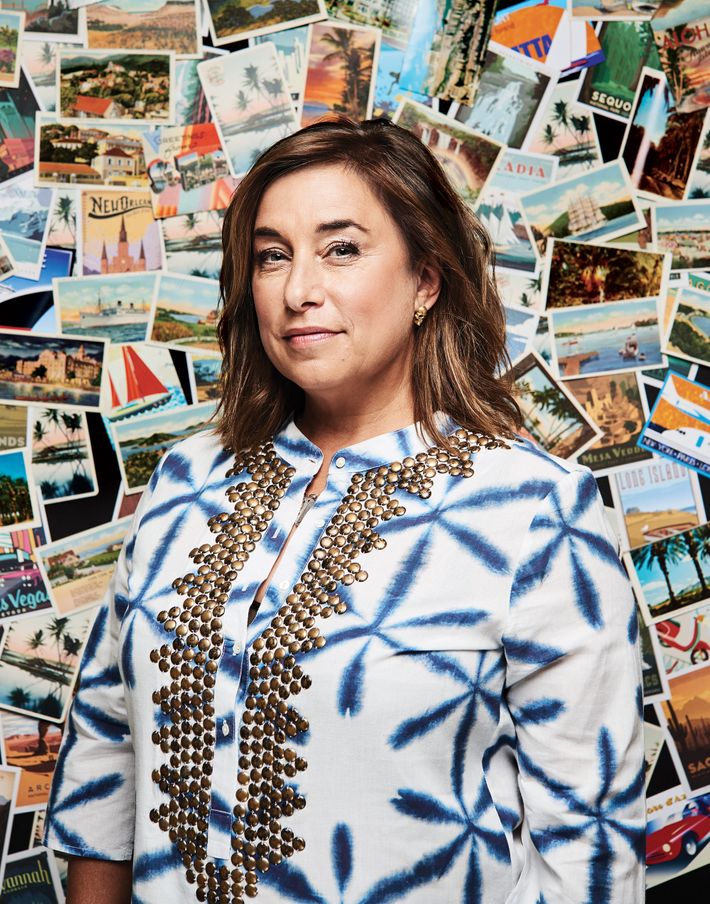 The Destination Wedding Planner
"I'm a girl who loves heavy machinery. For one wedding in the Côte d'Azur, we built out a tent over a tennis court elevated on a hill. We basically built a venue."
Michelle Rago, founder of Michelle Rago Destinations
Should people have a destination in mind when they come to you?
No. About 50 percent have chosen a location, and the other half are choosing between two to three regions. I have a series of diagnostic questions. We talk about temperature, how many modes of transportation they're comfortable with, do they need a golf course, do they want a town nearby, how important is food.
What are the challenges of destination versus local?
It can be tricky to ship things, like if you want to bring in your own flowers or décor. The laws can change constantly. One time we shipped flowers, which was legal when we decided to do so, but then we got to the Customs office and they were like, "Sorry, you can't bring that in." If you're getting married at a bigger resort, they'll be able to work with Customs much more easily than you will. Just remember that you're not dealing with New York response times. For destination weddings, you have to sign off on décor two to three months in advance.
What is the couple expected to provide at the destination?
You need a Thursday-night cocktail or some arrival experience. Friday evening, you should do another function, although I wouldn't necessarily recommend a sit-down dinner. People make the mistake of entertaining big on a Friday night at destination weddings, and that can overshadow the wedding day.
Your business is more high-end, but in general, can destination weddings save money?
My clients typically choose places that cost marginally less if not the same as New York venues. But you can save if you go to places like Nicaragua, Colombia, Guatemala, parts of Mexico, or to a smaller region in Italy or France where you're off the beaten path. There's this eco-archaeological park in the Riviera Maya called Xcaret, and we once did a rehearsal dinner there, inside all of these water tunnels. Riviera Maya is definitely a more cost-friendly location, as opposed to, say, Cabo San Lucas.
Is it true celebrities have started using falcons to attack drones taking paparazzi pictures?
That's the big thing in the south of France. I think it's a brilliant idea. The birds just go for it. So fabulous.
212-877-7747; michelleragodestinations.com
"It's terrifying to have to carry the dress on an airplane. But you have to get there early and work it — make friends with the person behind the check-in counter and reserve a nice space for it in an overhead bin."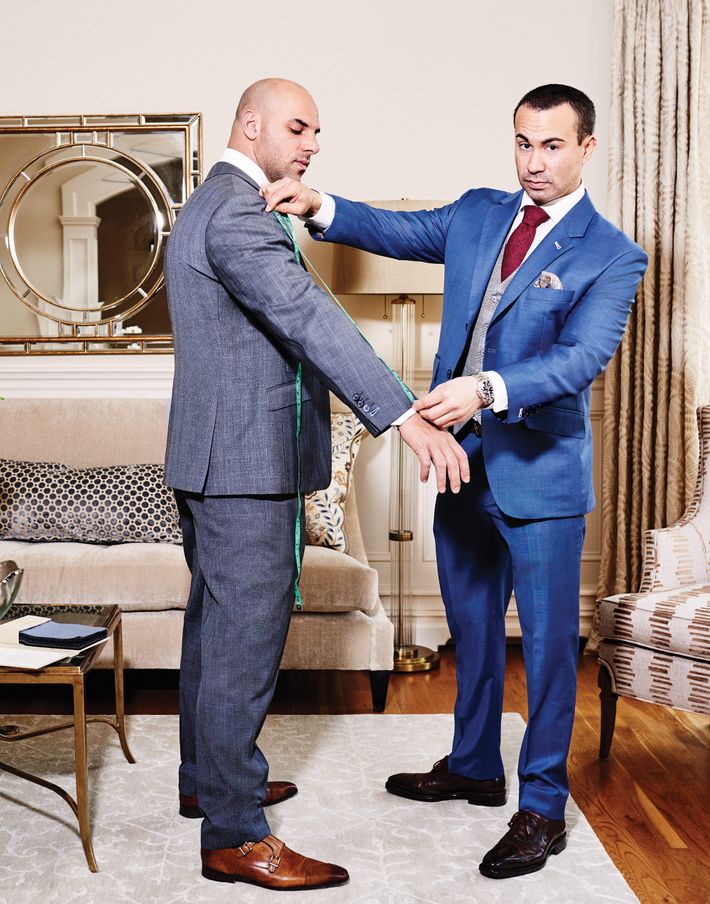 The Suit-Maker
"It's not all about the conservative dark grays and blue suits anymore — it's more acceptable to be crazy."
Justin Fox, owner of Mr. Fox Suits
What's your process for making a custom suit?
One of our stylists arrives at your apartment with approximately 2,500 different fabric swatches: cashmere-wool blends, merino wools, micron wools. Then there are about 50 different specifications you can make, including the inside piping, the lining, the type of buttons you want, and whether you get a monogram. Sometimes when the groomsmen come along, they turn into little men's events.
What's the big trend in custom suits right now?
Bolder colors are definitely happening right now — like this bright, denimish blue. There's also some more adventurousness with the lining fabrics that people are choosing — gingham and floral and checked, for instance. Whatever you want, we'll work with you. There was actually one groom we worked with who very specifically wanted a light-blue suit, something that popped against the outdoor background of his destination wedding. The budget for the wedding party was only $500 per suit, which was tricky for us since our most basic suit, with a wool, polyester, and cashmere blend, costs $575. But he was so excited about the custom color, and he had a wedding party of nine people, so we were able to make it happen.
What's the most extravagant suit you've ever made?
One groom did a full canvas suit — which essentially means that the suit has a horsehair canvas sewn into the entirety of the jacket to help it maintain structure. Then we did custom stitching with a custom jacket liner that depicted specific engagement photos he wanted to remember. It cost about $2,000. We've also had people change the lining to include everything from a motto like "Ride or Die" to a picture of Batman — you open the jacket and there he is.
551-227-7577; mrfoxsuits.com
"The biggest choice you have to make is between slim and regular fit. Just remember, if you want a nice formfitting suit, you're not going to be able to do cartwheels."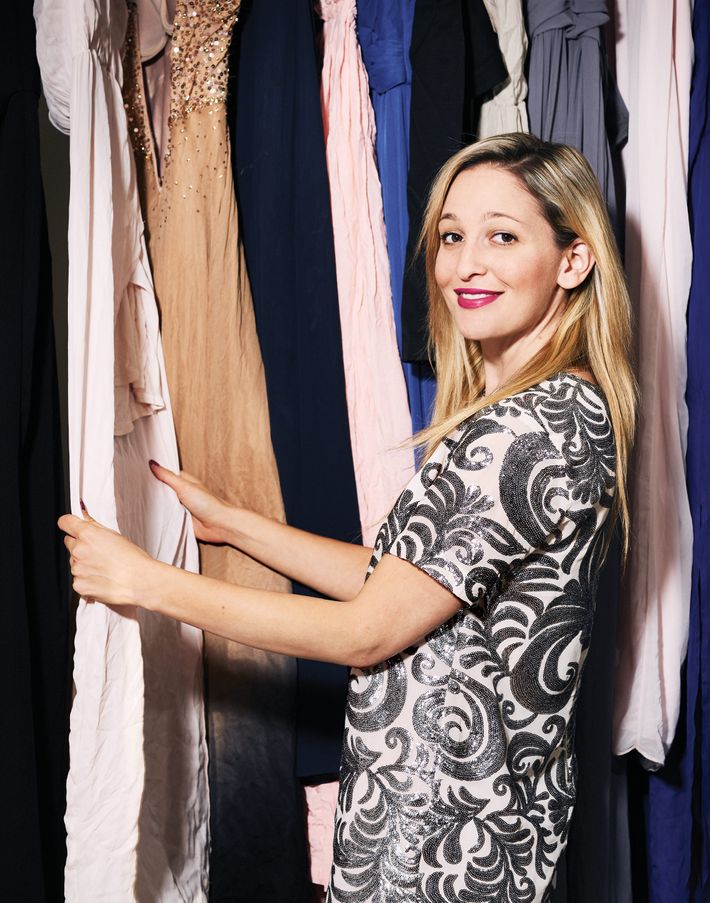 The Professional Bridesmaid
"You may have the best friends in the world, but can you blame them for not wanting to hear your wedding drama every day for a year?"
Jen Glantz, founder of Bridesmaid for Hire
What's a professional bridesmaid?
I kind of made up the job after being a bridesmaid in eight of my friends' weddings. I posted on Craigslist asking what help brides might want. Most of the responses I got back were from brides who were disappointed in their friends. They weren't getting help with planning and didn't have anyone to listen to their problems with their vendors, families, and fiancés. Now brides come to me for everything from checking out their vendor contracts to solving fights between friends. The prices range from $150 if you just want a 90-minute phone session to talk through your worries, to $175 if you want me to write a speech for you, to $1,200 for full-day wedding coordination. A lot of my clients — I've had 60 so far — find me on social media and YouTube.
What's a typical wedding day like for you?
I usually arrive an hour or so before the other bridesmaids. I'm there to get the bride up, make sure she eats — so many people don't do that — get her to breathe and walk around to relax. Essentially I'm the bride's personal assistant. I don't drink or even eat much at the reception; I'm just there to shadow the bride, to help her with little things like going to the bathroom, to be on the lookout for things that could be going wrong. At one recent wedding, there were six bridesmaids who were all pretty feisty. They were about to rip each other's heads off. But because I had helped them plan events leading up to the wedding and had really gotten to know them over time, I could step in and defuse the situation without the bride ever knowing about it.
If they can't afford to hire you, how can brides do a better job of picking their bridesmaids?
This is going to sound harsh, but a great friend doesn't necessarily make a good bridesmaid. Brides should use what I call the elevator test. Ask yourself who you'd like to be trapped in an elevator with. That situation brings up some of the same feelings as a wedding day — anxiety, fear, exhaustion, hunger. If you can think of two or three people you'd want to be with, maybe keep your bridal party to just those three people. Everybody else is a guest.
That elevator strategy might lead to some disappointed friends.
Sometimes it's easier to throw the ball back in their court and remind them of how much time and energy and money being a bridesmaid can actually entail. Say something like "I want you to be involved in my wedding, but it's going to be a whole ordeal, with all the dress shopping and bachelorette-party and bridal-shower planning. Would your rather do a reading or just be a guest?" You'd be surprised how many people, when they think it through, just want to be guests.
"The bigger the bridal party, the bigger the headache. There are more schedules to clash, more people getting ready with you, which leads to chaos."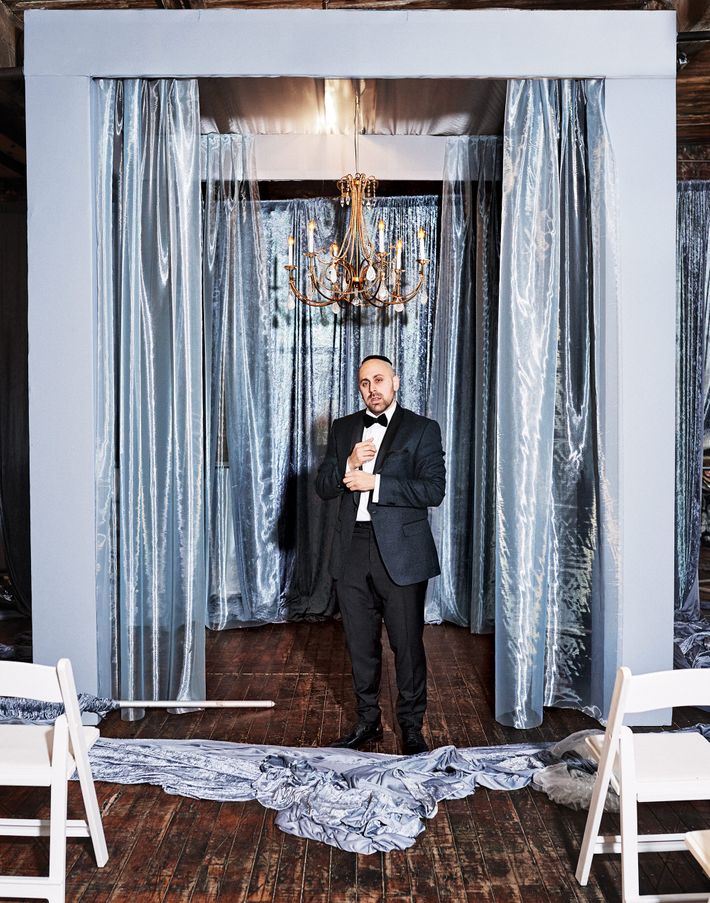 The Chuppah Designer
"I started in general event design, but I'm from an Orthodox Jewish neighborhood where every single wedding needs to have a chuppah."
Josh Spiegel, head designer at Birch Event Designs
What's the most important aspect of the chuppah?
The poles are what everyone pays attention to. We'll typically cover the poles in flowers or soft draping and then fill in the top in a way that drapes around our bride and groom. Something like flowers hanging down, pouring over the front and coming around on all four sides, so that the whole thing is sort of enwrapped in these beautiful flowers. We also do sleek Lucite, mirrored, or minimal columns with a cap of fabric for something more modern. We try to exude a feeling within the poles and then work our way up to the archway.
How much do they cost?
A more affordable option is birch poles. Those can cost $1,000, and they don't require too much labor to install; you can just have a ceremonial tallis hung above simple birch poles, and it's beautiful and very spiritual-looking. The next level up from that would be $2,500 for mirrored and Lucite poles, and it can go up to $10,000, depending on all the draping and flowers.
How do you factor in the pictures?
People do not think enough about how the chuppah will look in pictures. I once had a couple come up to me and say, "Give me a super-wide ceremony, because I have a dozen people that need to go up there," but then every picture was literally a bride and groom sitting on a carpeted platform, and you didn't see anything else. To solve that, we started decorating the back wall, because you'll see it in every picture; it brings the whole scene together. As for the number of people up there, I think it's best when it's just the couple and their parents. We like to put our chuppahs on a stage, and we'll extend the stage so you have the bridesmaids and groomsmen off to the left and right. They're elevated but not underneath the canopy.
How do you incorporate family heirlooms?
A lot of times, a tallis is brought to us because it belonged to a grandfather that passed away. I've had clients who make it a specific point to see it, but most people ask me to please hide it; as long as it's there, they feel like it's doing the job. I also had a bride whose grandmother had sewn a chuppah top where she embroidered the name of every grandchild who got married under it and it became a tradition. But this bride told me, "Do me a favor and hide it." Then the grandma comes in and says, "I'm going to see that, right?" In the end, we were able to strike a balance where we used the embroidered top but made a wall of flowers behind it using all the same colors, so it all blended together and looked beautiful.
718-853-8538; birchevents.com
"The best chuppah looks permanent, not like you're going to remove it in five minutes."
*This article appears in the summer 2017 issue of New York Weddings.