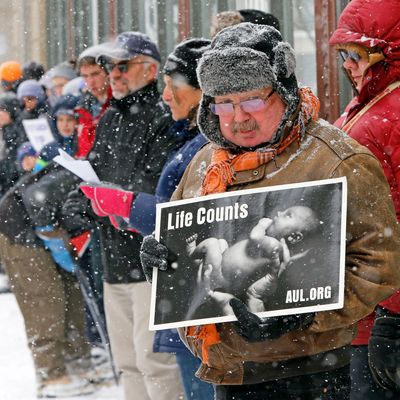 Protesters hold signs outside a Planned Parenthood in Portland, Maine.
Photo: Ben McCanna/Press Herald via Getty Images
Abortion clinics have always been popular places for sign-bearing protesters to congregate, but according to new data released from the National Abortion Federation on Wednesday, instances of picketing outside clinics reached an unprecedented peak last year. The organization has been collecting data on anti-abortion activists' activity since 1977, and in 2016, the reported number of picketing incidents — 61,562 — exceeded those in every year since NAF began keeping track.
What's more, anti-abortion activists seem to have been emboldened by the election. Since November, negative online commentary about abortion care and abortion providers has more than tripled from the preelection monthly average in 2016.
As Think Progress points out, there are laws that protect abortion providers and their patients from picketers. The Freedom of Access to Clinic Entrances Act (FACE) "prohibits the use of physical force, threat of physical force, or physical obstruction to injure, intimidate, and interfere with accessing reproductive health care  —  as well as the intentional damage or destruction of a health-care facility."
Of course, it's up to federal officials to decide whether or not to enforce the law. According to Salon, President Bill Clinton's administration prosecuted an average of ten people a year under FACE, but those instances dropped by 75 percent under George W. Bush. And judging by his record, it seems unlikely Attorney General Sessions will dedicate Justice Department resources to protecting abortion providers.
All told, NAF's numbers are another clue that anti-abortion activists feel emboldened under President Trump, and that, as abortion doctor and activist Dr. Willie Parker observed, "they're starting to feel like direct confrontation — psycho-terrorism — is more effective." He went on, "If women and providers feel vulnerable that will keep people from pursuing abortion, even if it remains legal."