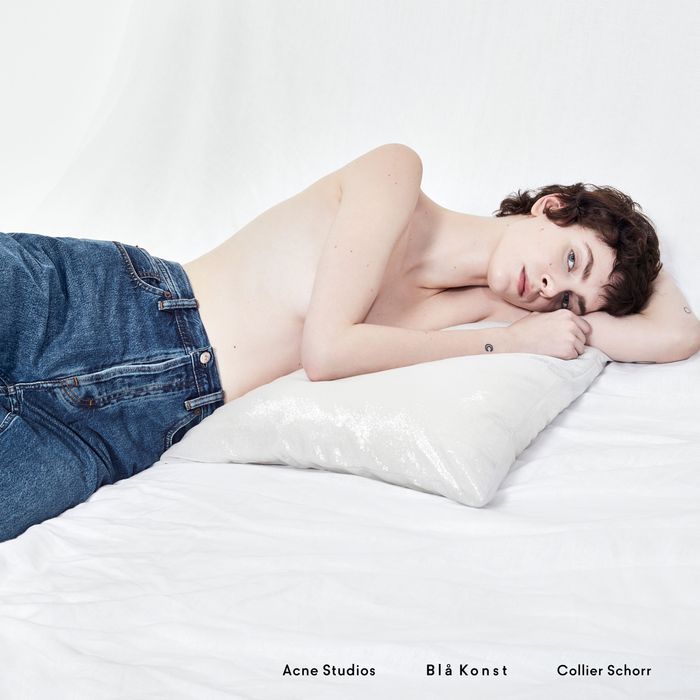 A preview of the new jeans, shot by Collier Schorr.
When you think of Acne Studios, you probably envision a specific uniform: leather jacket, jeans, and a pair of cool, rocker-y boots. Well, one aspect of that look is getting a drastic overhaul. Tomorrow, the brand is relaunching their entire denim collection. Creative Director Jonny Johansson dubs the new line Acne Studios Blå Konst, which roughly translates to Acne Studios Blue Art — a fitting name for their new jeans.
Before you freak out and run off to stock up on your favorite styles before they're discontinued, fear not. There will be six core styles for men and women — a straight leg, a skinny, and a baggy silhouette. These will be the classic wardrobe basics you can rely on year after year and will range from $220 to $390. On top of that, Acne Studios Blå Konst plans to include a seasonal line that changes depending on what Johansson is inspired by. The idea is that denim, usually an afterthought, would get the same personal attention that a designer would give to a runway collection. These pieces start at $110 for a T-shirt and go up to $630 for a jacket.
For this season, Johansson draws inspiration from the Swedish outdoors and the functionality of an artist's uniform. That translates into high-waisted shorts, loosely cut jackets, bucket hats, and even a denim hoodie. There are bright prints in addition to more traditional washes. You can check out everything tomorrow, but until then, get a taste of the new jeans below with these images shot by photographer Collier Schorr.