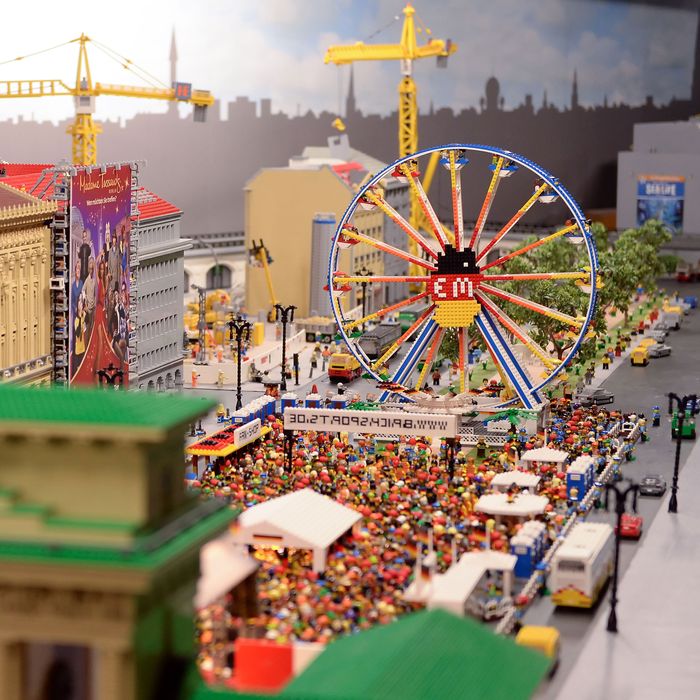 The Legoland Discovery Centre in Berlin.
Photo: Britta Pedersen/Getty Images
Sea levels are rising, bees are dying at an alarming rate, the world is facing a refugee crisis, and, most horrifying of all, grown men are being denied entry to the Legoland Discovery Centre in Melbourne, Australia.
In the wake of this grave injustice, the Guardian reports, these men are furious: One has even threatened to file a file human-rights complaint with the Victorian Civil and Administrative Tribunal for age-based discrimination.
"Absolutely disgusted to hear that you will discriminate on grounds of age," he wrote on the center's Facebook page. "Lego is something that is enjoyed across all the ages — I personally have thousands of dollars worth of the Creator and Architecture series … I hope you've done your homework on this one because I will be making a complaint to VCAT if you knock me back on the grounds of age and I will encourage others to do so as well."
"I was going to visit chadstone to see Legoland. But can't even enter. What a discrimination to age entry," another wrote. "Boycotting Legoland! Very upset!"
The Legoland Discovery Centre — which describes itself as "the ultimate indoor Lego playground" — does not allow adults over the age of 17 unless they're bringing a child. (A representative posted a statement on Facebook explaining why upon receiving complaints.) Though this is a common practice, several of these men didn't realize and already bought annual passes. According to the Guardian, the age restriction is "a fact that some self-described AFOLs (adult fans of Lego) said any true fan would know before splashing $77 on an annual pass." Yes, reader: This issue is even tearing apart the AFOL community.
Besides these complaints, other mixed reviews of the center include: "My 3 year old enjoyed the playground but wasn't interested in much else."