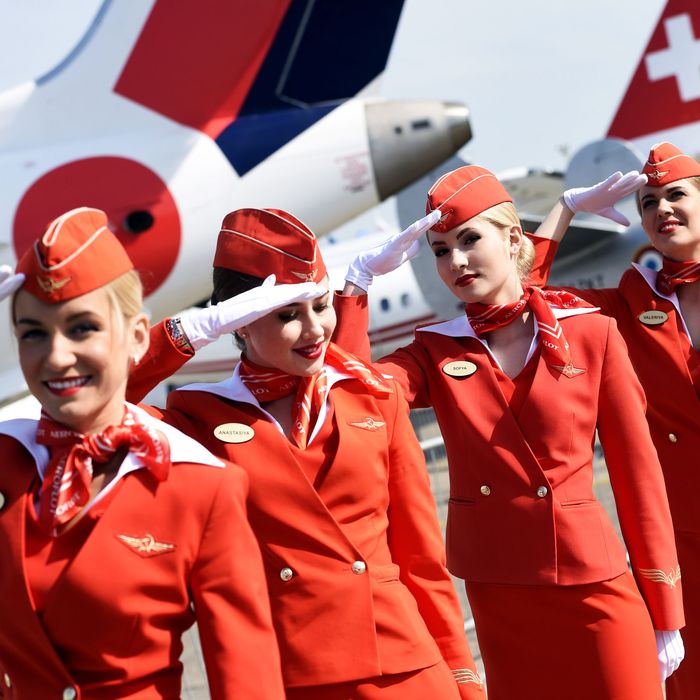 Aeroflot flight attendants.
Photo: MIGUEL MEDINA/AFP/Getty Images
After two female flight attendants filed suit against Russian airline Aeroflot for age and sex discrimination, two men defending the airline argued in a Tuesday press conference that customers want attractive flight crews, the New York Times reports.
Flight attendants Evgeniya V. Magurina and Irina N. Ierusalimskaya filed two separate suits against the airline over a 2016 decision to enforce weight guidelines for those working in the cabins of Russia's biggest and flag-carrying airline. Under the new policy, female cabin crew could be a maximum clothing size of 48, which is around 14 in the U.S., though men were allowed to weigh a bit more than that. The two women were allegedly barred from international flights because of their larger sizes.
The women lost their initial court cases, but announced during the press conference that they were planning to file appeals. Two members of the Aeroflot Public Council — economist Nikita A. Krichevskiy and journalist Pavel V. Danilin — also spoke in defense of the company during the conference. They remarked on the breast size of one of the women, and claimed the weight guidelines are not discrimination.
The men argued that the airline was seeking to become one of the top ten in the world, which means the appearance of its cabin staff is important, according to the Times. Additionally, they noted that of 600 flight attendants told to lose weight, only 50 failed to do so, and that the women should be grateful the airline cares about their health. They also claimed that heavy flight attendants pose a danger in emergency situations.
Per the Times:
"I don't understand why the requirement of wearing size 42-48 is considered so unworkable," said Mr. Krichevskiy, adding that he had shed 20 kilograms in recent years.
The men also referred to a passenger survey which purportedly showed that passengers preferred pretty cabin crews, and the Times notes that the company's public-relations firm sent out the survey again on Tuesday. The airline later tried to distance itself from the men's remarks, saying in a statement that the council is an advisory board, and they were speaking as private citizens since they are not official spokespeople for the airline.