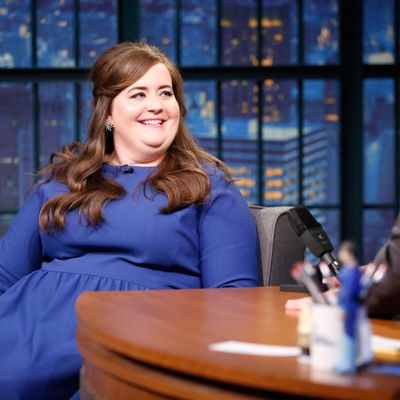 Aidy Bryant and Seth Meyers.
Photo: NBC/NBCU Photo Bank via Getty Images
Aidy Byrant revealed to Seth Meyers on Thursday that she's engaged to her longtime boyfriend — and that she initially thought the proposal was a joke.
The Saturday Night Live star, 29, had already been with comedian Conner O'Malley for about nine years when he proposed in October, she explained on Late Night With Seth Meyers. "We've been together a long time … so a lot of the shimmer and shine has faded and we're just living every damn day as best we can," Bryant told Meyers. That's why, when she returned home one evening after a SNL pitch meeting with Lin-Manuel Miranda, she wasn't expecting much, let alone a sweet proposal from her longtime love.
"I got home, I had my purse and our mail and all these boxes, and when I walked in the door, our dog had a bow tie on. And I was like, 'My dog doesn't wear a bow tie. Where is he going tonight?,'" Bryant told Meyers. "And then basically the second I shut the door, a man — who I discovered was Conner — frantically came around the corner and was just like 'Willyoumarryme?' No box, no I love you, no fance. Just a man in full terror, standing very far from a dog in a bow tie, just holding a loose ring, going 'Will you marry me?'"
Bryant recalled that she "truly couldn't comprehend" what was happening, and repeatedly asked O'Malley if he was joking. Eventually the reality of it all sunk in, and she told him "Of course I'll marry you. I love you."
She then asked O'Malley why he opted for his sneak-attack proposal. "He was like, 'You always said you wanted it to happen in our house if it ever happened.' And I said, 'That's true, I wanted it to be private,'" Bryant said. "He was like, 'But I also knew you wanted to be wearing a bra and have makeup on, so I knew I had to do it after you had just gotten home from work, otherwise there would never be another moment.'"
Bryant added, "It's about a 40-second window before I get in the door and rip off my mask and become a woman on the couch."