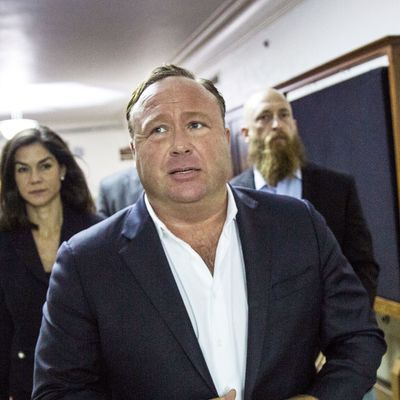 Alex Jones.
Photo: Tamir Kalifa/AP
Conspiracy theorist Alex Jones's custody battle with ex-wife Kelly Jones came to a close on Thursday night, with the jury ruling that the couple would have joint custody and that Kelly would have the right to ultimately decide with which parent their children will live. The children, aged 9, 12, and 14, had previously been living with Jones and reportedly only saw their mother a few times a year.
Jones's attorneys argued throughout that he was simply playing a character on his Infowars show; this did not seem to convince the jury, which ruled 10-2 in favor of Kelly.
This may have been due, in part, to several details about Jones's behavior off-camera that emerged. For instance, he forgot the names of his children's teachers because he had a "big ol' bowl of chili" for lunch and allegedly took off his shirt in the middle of a family-therapy session.
Then there was the video evidence. Per the Daily Beast, the court saw a "clip of Alex apparently inebriated in Washington, D.C., on Inauguration Night bellowing that '1776 will commence again' and 'the age of man is here,' before announcing that he is going to go urinate on a tree."
Kelly told reporters following the verdict,"I'm so blessed to have such a wonderful support system, such a wonderful family and friends who stood beside me through all this."