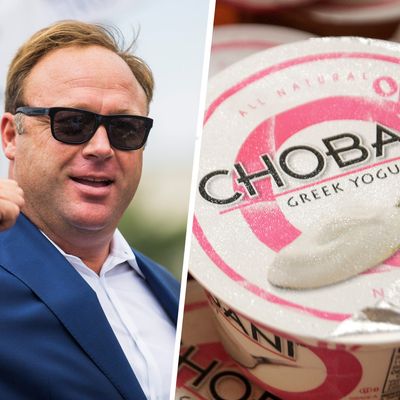 L: Alex Jones. R: A container of Chobani yogurt.
While far-right conspiracy theorist Alex Jones is in the midst of a custody battle with his ex-wife, he faces another set of legal troubles: a lawsuit from America's premiere Greek-yogurt brand.
Jones — who, from the looks of it, has likely never enjoyed a tart and refreshing bowl of yogurt topped with, say, some raspberries and a bit of granola — is being sued by Chobani for defamation in Idaho District Court, the Associated Press reports.
The company's complaint stems from an April 11 video posted by Jones's site, Infowars, that discusses how Chobani owner Hamdi Ulukaya hired refugees to work at a Twin Falls, Idaho, plant. Specifically, Infowars ties this to a reported sexual-assault case in the area (which in itself has been discredited as mostly false by Snopes).
Chobani is seeking $10,000 in damages after they say Jones did not respond to their requests to remove the post, presumably because he was too busy taking his shirt off.