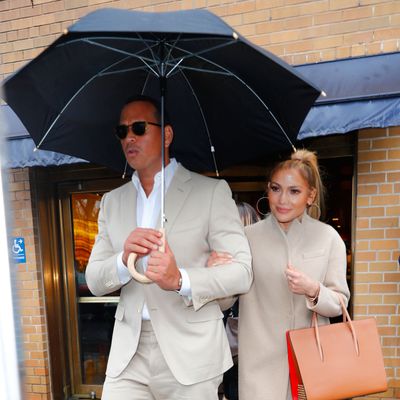 A-Rod shares his umbrella-ella-ella with J.Lo.
Photo: Jackson Lee/Splash News
The ladies of The View don't mess around. When they want to find out what's up with your love life, they're gonna ask. Alex Rodriguez must have known his appearance on the show Friday would mean making his relationship with Jennifer Lopez publicly official without any help from Instagram, and so, dear reader, he did.
He had the following nice things to say about his new paramour:

"She's a New Yorker. She's from the Bronx, and a big Yankee fan."
"We're having a great time. She's an amazing, amazing girl. One of the smartest human beings I've ever met and also an incredible mother."
"She's an awesome, awesome athlete."
"She just likes simple things. I mean, she's a very, very simple person. Loves family. Is a great sister. Is a great daughter."
There you have it! Plus, the first official pictures of the couple hit the wires Friday after the two had lunch together two days in a row. Presumably they worked out soon afterwards.