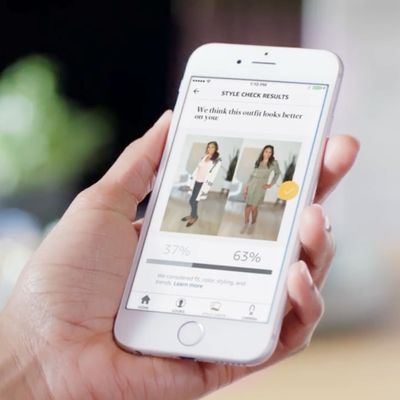 The Echo Look's "Style Check" feature at work.
Photo: Courtesy of YouTube/amazonfashion
Getting ready in the morning is pretty straightforward: Put clothes on, look at yourself in the mirror, maybe change into a different set of clothes if you feel like it, then head out the door. Silicon Valley, of course, has found a way to disrupt this simple task. Amazon introduced the Echo Look on Wednesday, a version of their popular Echo product that comes with a camera and is meant to assist you with getting dressed.
The Echo Look retails for $199.99 and allows you to verbally ask AI assistant Alexa to take photos and videos of you as you try on outfits, which it will then send to your smartphone. You can then look at your outfit from different angles or use Style Check, "a new service that combines machine-learning algorithms with advice from fashion specialists" — because there's nothing better than getting negged by a robot.
That said — if the recent smart-sex-toy scandals, and, you know, every other surveillance revelation, didn't already make you wary — maybe it's best to think twice before introducing a smart camera that can watch you get dressed to your morning routine.