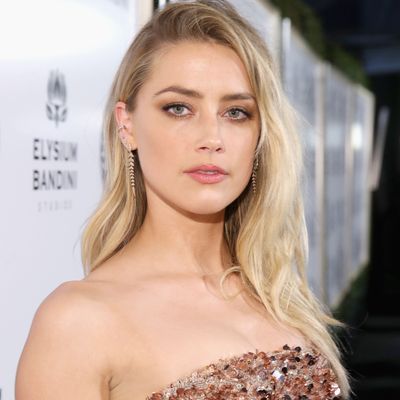 Amber Heard is not a fan of London Fields.
Photo: Randy Shropshire/Getty Images
London Fields is getting messy. The latest legal battle over the crime flick is a tug-of-war between star Amber Heard and producer Christopher Hanley.

In 2016, Hanley filed suit against Heard for "alleged breach of contract and tortious interference, acknowledging a dispute between them over nude scenes."

This week, Heard's team shot back with a counter-claim against Christopher Hanley and Roberta Hanley, the screenwriter, that the "lascivious and sexploitive couple" recorded explicit nude scenes with Heard's body double after the actress had finished filming. The scenes, which would be included in a so-called "Producer's Cut," were edited together to look as though Heard performed in them.
Heard's lawyer wrote,
After reading the script, she insisted on specific restrictions about nudity and sex scenes in the film as a condition to agreeing to appear in the Movie. [Christopher] … expressly agreed to Heard's terms, and they were memorialized in the Nudity Rider to her contract.

The Hanleys … caused to be filmed secretly several additional nude and sex scenes with a body double for Heard and included them in the 'Producer's Cut' — also in violation of the Nudity Rider… The secret filming of this body double footage was not on the schedule that had been provided to Heard and was shot with a skeleton crew only after Heard had completed filming and had left the set. The body double footage included an explicit pornographic sex scene that Heard would never have agreed to do herself … the body double footage was designed and intended to leave anyone who saw the images with the distinct impression that it was Heard.
London Fields was supposed to premiere at the 2015 Toronto International Film Festival but was yanked from the lineup because director Mathew Cullen filed suit against the Hanleys for fraud. Cullen claimed the couple "hijacked" the final cut, adding details like "incendiary imagery evoking 9/11 jumpers edited against pornography."
London Fields has no release date and is currently stuck in production limbo, although from the sound of it, that might not be a bad thing.