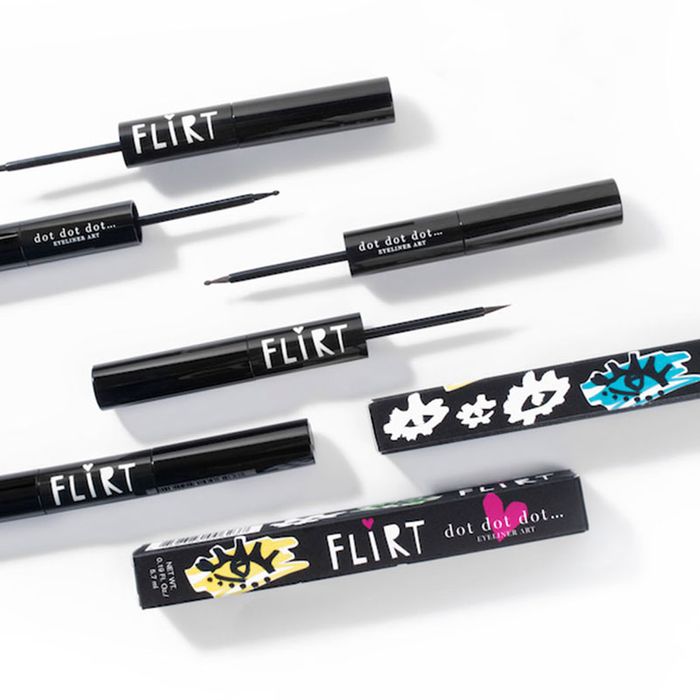 Scientists are always tinkering with makeup — to make it last longer, look more natural, smell less weird — which is why the foundation you wear today is not the foundation you wore ten years ago, even if it's the same brand and make. The same can be said about eye shadow, nail polish, and mascara. It's hard to improve eyeliner, however, but you can certainly make the process less of a bore. In that arena, Amber Rose's Flirt Cosmetics corners the market.
Flirt Cosmetics's Dot Dot Dot is a dual-ended liquid eyeliner, where one tip is pointy and the perfect implement for a cat-eye, and the other end-stops with a tiny, rounded ball. I suppose such a thing isn't exactly new (Revlon, Almay, and L'Oreal Paris have all had similar items under their belt), but the construction of Flirt's version is sturdier. Because the tip is dipped into a pot of eyeliner formula (versus a markerlike design where no dipping is required), the end doesn't dry out before the formula is completely sapped.
Dot Dot Dot's uniquely fruitful promise is to make eyeliner more fun. Instead of sweeping a thin line over your lid, how about a few dots? A cut crease is an ambitious eye-shadow stunt, but a few dots instead of a blended line is easier and significantly less frustrating. Or, take a look at the standard cat-eye. Such a thing is amplified a notch when the cat-eye is bookended with a single dot, instead of a sharp point. Dot Dot Dot makes bolder looks tenable and attainable. Take it from an all-thumbs makeup schlub like me.
The eyeliner is available in two colors: black and brown. If you're feeling particularly adventurous, you can dip the tip into a pot of cream eyeliner of your choice, to paint with a different color. If you're thinking you can simply use a toothpick or an eyeliner brush, you're either a talented makeup artist or mistaken. The beauty of Dot Dot Dot is that it creates a consistent, rounded shape that transfers onto skin without much difficulty. Oh, and it's fun. With Amber Rose as the brand's face, I'd expect nothing less.
Every editorial product is independently selected. If you buy something through our links, New York may earn an affiliate commission.