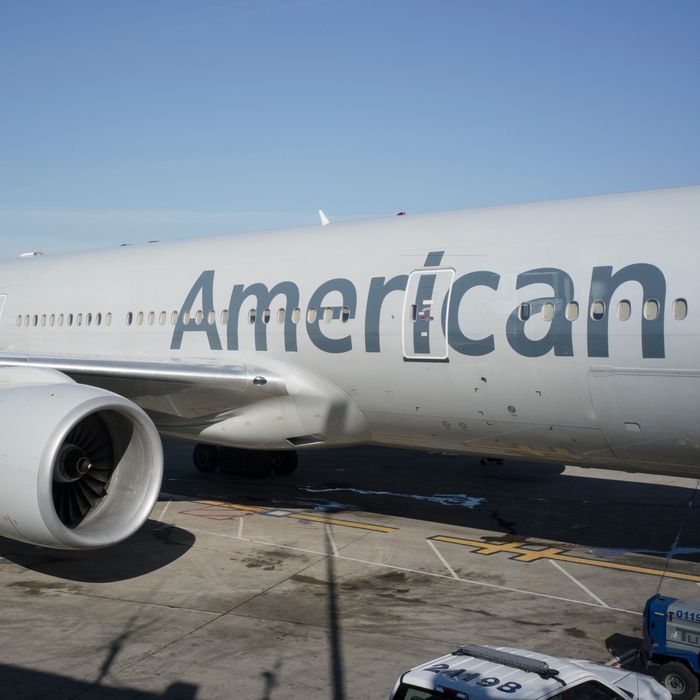 Flying the so-called friendly skies.
Photo: James Leynse/Getty Images
Just weeks after a United passenger was dragged off a plane for not giving up his seat, yet another video of a tense airplane incident has surfaced, this time of a flight attendant behaving badly.
The plane, which was en route from San Francisco to Dallas Friday afternoon, was still on the tarmac when one of the attendants abruptly took away a stroller from a woman who was traveling with two children. According to The Guardian, "the employee forcefully took a child's buggy from a woman, hitting her with it and narrowly missing her child."
Passenger Surain Adyanthaya's video, which has gone viral, shows the aftermath of the event, with the woman crying and asking for the stroller back while concerned passengers intervene. At one point, a man who'd already confronted the flight attendants over the incident stands up and tells the flight attendant who took the stroller, "Hey bud, hey bud, you do that to me and I'll knock you flat!" The attendant, looking increasingly angry, replied, "Hey, you stay out of this!"

Here's the video of the event in question.
Within 20 minutes of the flight landing in Dallas around 7:45 p.m., American Airlines issued a statement:
We have seen the video and have already started an investigation to obtain the facts. What we see on this video does not reflect our values or how we care for our customers. We are deeply sorry for the pain we have caused this passenger and her family and to any other customers affected by the incident. We are making sure all of her family's needs are being met while she is in our care. After electing to take another flight, we are taking special care of her and her family and upgrading them to first class for the remainder of their international trip.

The actions of our team member captured here do not appear to reflect patience or empathy, two values necessary for customer care. In short, we are disappointed by these actions. The American team member has been removed from duty while we immediately investigate this incident.