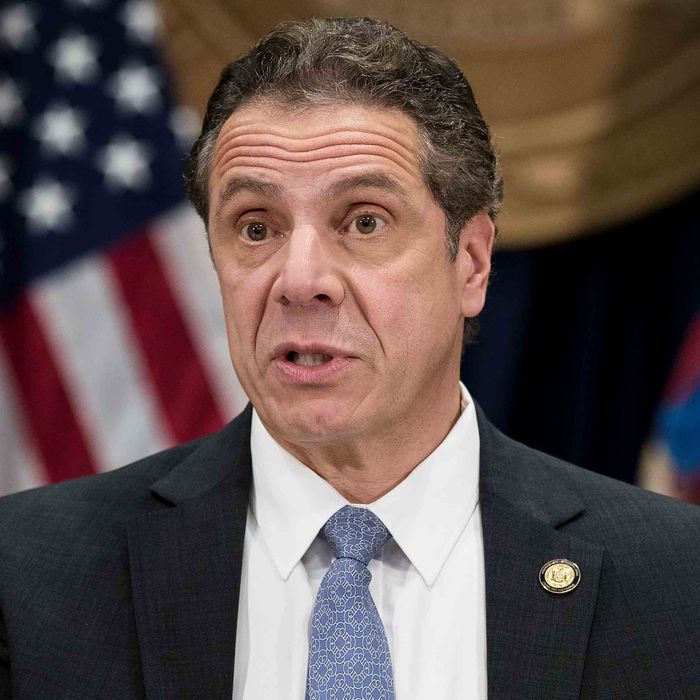 New York governor Andrew Cuomo.
Photo: Drew Angerer/Getty Images
New York is currently one of just 15 states to mandate that insurers cover infertility costs. Which might seem progressive until you look more closely at how infertility has been defined. To qualify for coverage, prospective parents between the ages of 21 and 44 must have been trying to conceive through regular intercourse for 12 months, or six if the parent is over 35. But what about wannabe parents for whom "regular intercourse" is not the path to conception?
New York took a stand for nonhetero, non-coupled, nontraditional families this week when Governor Andrew Cuomo sent a circular letter to the state's insurers informing them that it will no longer be legal for them to exclude same-sex or single prospective parents from infertility coverage.
Cuomo's letter, which was sent on Wednesday, orders the Superintendent of Financial Services to enforce regulations that determine infertility in accordance with the American College of Obstetricians and Gynecologists: as "a disease, defined by the failure to achieve a successful pregnancy after 12 months or more of appropriate, timed unprotected intercourse or therapeutic donor insemination." This means that, "if an individual meets the definition of infertility and otherwise qualifies for coverage then an issuer must provide coverage regardless of sexual orientation or marital status."
The intercourse-only definition of infertility has left many homosexual and single New Yorkers who want to have a child more economically vulnerable than their traditionally hetero-partnered peers. One lesbian couple, who encountered the roadblock in 2014, set up an Indiegogo account and launched a Change.org petition highlighting the fact that their insurer, UnitedHealthcare, had denied them coverage after nine months (and over $13,000) of unsuccessful inseminations.
"This is in direct response to a problem that we know exists," said Governor Cuomo's chief counsel, Alphonso David, describing the way in which insurance companies were writing policies designed "to discriminate against single women and same-sex couples." The circular letter "takes away any ambiguity, it takes away any excuse," said David, noting that insurers will be fined or lose their licenses if found in violation of the mandate. (On Monday, the state announced that it was fining the insurance company Excellus $1 million for failing to cover contraceptive costs completely or in a timely manner.)
"Just like we have a definition of marriage that can't by its language discriminate against people based on who they are," says David, "you can't have a definition of infertility that by its language discriminates against people based on who they are or whether or not they're in a relationship."
Of course, these protections do not fully mitigate the high costs of reproducing outside of a traditional hetero relationship. Twelve — or even six — months (since same-sex couples and single people will now be eligible for the over-35 shortened window before diagnosis) of intrauterine inseminations will still mean an extra financial burden for those attempting procreation via a doctor's office. Susan Sommer, director of constitutional litigation at Lambda Legal, called news of the regulation "great for what it is," but added that "of course we'd hope to see coverage for donor insemination from the get-go. If you really want to level the playing field for all potential parents, that is critical." The costs of insemination in advance of an infertility diagnosis remain a larger burden for single people, points out Bella DePaulo, author of Singled Out and advocate for unmarried rights and protections. "Relative to a couple with two incomes," DePaulo said, "it's a bigger expense for a person relying on one income."
Even for the many prospective parents who are in hetero relationships, the price of infertility treatment remains high, since New York, like most other states, currently excludes pricey IVF treatments from its coverage guarantees. Barbara Collura, the president and CEO of Resolve, the National Infertility Association, is pushing for Albany to pass the Fair Access to Fertility Treatment Act, a bill that consists of three protections: a mandate that insurers cover IVF, a requirement that insurance cover fertility preservation for patients undergoing treatment for diseases that impact fertility, and a push for nondiscriminatory language protecting single and same-sex couples. "It sounds to me like the nondiscrimination part has been taken care of," said Collura with a laugh.
Cuomo's office is calling his initiatives around reproductive health part of "New York's Promise to Women: Ever Upward." This includes other recently enacted insurance protections such as guaranteed coverage of medically necessary abortions and contraception (even if the contraception mandate of the ACA is overturned under Tom Price's tenure at the Department of Health and Human Services), as well as efforts to fight sexual assault on college campuses, protect against sexual harassment in the workplace, end pregnancy discrimination, establish paid family leave, and raise the minimum wage to $15 an hour. The governor issued a statement calling his letter "another victory in the fight for women's equality … New York will always stand up and defend women's rights to access safe and affordable health care."
Cuomo is clearly looking to shore up his progressive bona fides, perhaps in preparation for a 2020 presidential run. (His free state- and city-college tuition plan, which he announced alongside Bernie Sanders and signed at a ceremony with Hillary Clinton, has been met so far with a tepid response from progressives and in the press.) But Cuomo is also trying to safeguard New Yorkers against the possibility of Trump-era cutbacks and incursions. And this infertility protection is a real step toward acknowledging the changing realities of how Americans live and make families today, as opposed to how they lived and made families even a few decades ago. And it's part of a far larger social shift than this seemingly small technical requirement — or even the lived benefits of those whose infertility treatments will now be covered — might suggest. As Bella DePaulo puts it, "this is part of the long unraveling of the components that all used to be tied up in the one package of marriage: sex, having children, living together." Legalization of birth control helped to uncouple sex from childbearing; now, the decision to have a child is becoming more distinct from the decision to marry. "The whole bundle," says DePaulo, "is coming undone."