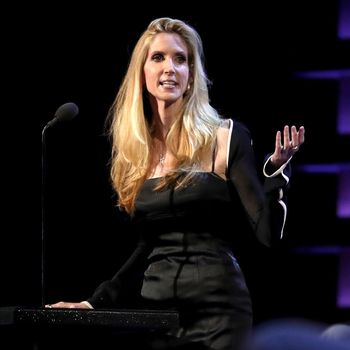 Ann Coulter.
Photo: Christopher Polk/Getty Images
Ann Coulter announced Wednesday that she has canceled her controversial speech at the University of California, Berkeley. The move comes one week after the university revealed its initial plans to cancel the event, which prompted the campus Republican group to file a suit accusing the school of discrimination and of violating the students' right to free speech.
"There will be no speech," Coulter wrote in an email to Reuters. The conservative commentator explained that the two conservative groups who initially sponsored the event were no longer supporting her appearance. "I looked over my shoulder and my allies had joined the other team. I have no sponsor, no lawyer, no court order," she wrote. "I can't vindicate constitutional rights on my own. I was just supposed to give the speech."
Coulter had been scheduled to give a speech at UC Berkeley on Thursday that would be critical of pro-immigration policies, according to Reuters. Last week, the university canceled the event, writing in a letter to the College Republicans that it wasn't "possible to assure that the event could be held successfully — or that the safety of Ms. Coulter, the event sponsors, audience, and bystanders could be adequately protected."
The commentator initially claimed the speech hadn't been canceled and that she would still be speaking at the school, and school administrators quickly reversed their decision, saying it had found a new venue for the talk on May 2. The Berkeley College Republicans filed suit against the college on Monday, claiming school administrators were discriminating against conservative students for canceling Coulter's talk.
The controversy surrounding Coulter's talk came shortly after noted alt-right troll Milo Yiannopoulos's speech at UC Berkeley was cancelled after student protesters started fires in what university police called "violent demonstrations."