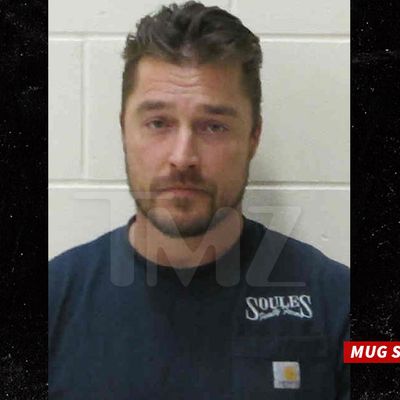 Chris Soules following his arrest.
The Bachelor's Chris Soules has been arrested following a fatal car crash in his home state of Iowa, TMZ reports. According to the online gossip outlet, the incident happened Monday night, and Soules is currently in custody. Here is what we know so far, per TMZ:
"Bachelor" Chris Soules is in custody after allegedly slamming into a tractor trailer, killing the driver and then fleeing the scene … TMZ has learned. The incident happened in Iowa Monday at 8:20 PM. According to docs, Chris was driving a Chevy pickup and rear ended a John Deere tractor trailer, sending it into a ditch. The driver was taken by ambulance to a hospital, where he died.
Soules has reportedly been "booked on the charge of leaving the scene with a death."
The Iowa farmer appeared on The Bachelor in 2015, and he later competed on Dancing With the Stars. We have reached out to Soules for comment and will update if we hear back.
Update, 12:20 p.m.: TMZ now has a photo of Soules sitting in court for his arraignment. The outlet also reports some new information about the incident: Police say Soules had "alcoholic-beverage containers" at the time of the crash, and that he was arrested after witnesses near the scene found him and called the cops.
Update, 12:50 p.m.: Soules has a history of "alcohol-related driving convictions," KWWL reports. In 2006, he was convicted of operating a vehicle under the influence, resulting in a $500 fine and one year of probation. In 2001, he pleaded guilty to driving with an open container.
Update, 3:10 p.m.: A representative for Soules released the following statement about the incident and the victim to several outlets:
Chris Soules was involved in an accident Monday evening (April 24) in a rural part of Iowa near his home. He was devastated to learn that Kenneth Mosher, the other person in the accident, passed away. His thoughts and prayers are with Mr. Mosher's family.
CBS2 reports that Mosher was a 66-year-old farmer from Aurora, Iowa.
According to TMZ, Soules has been released from jail on a $10,000 bond and is due back in court May 2.