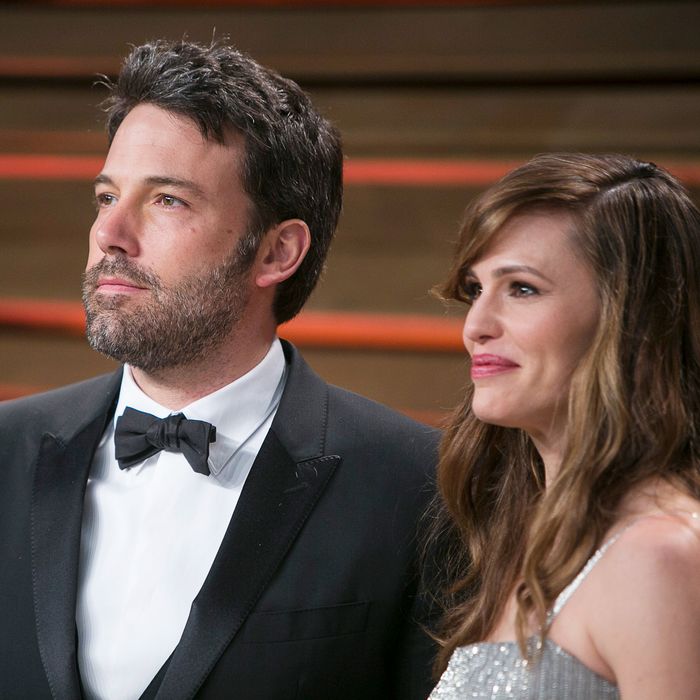 Ben Affleck and Jennifer Garner.
Photo: ADRIAN SANCHEZ-GONZALEZ/AFP/Getty Images
Nearly two years after first announcing that they were separating following ten years of marriage, Ben Affleck and Jennifer Garner have finally, formally, filed for divorce. TMZ broke the story on Thursday, citing court documents. According to the site, the two actors jointly filed their petition and response paperwork without a lawyer, indicating that the move was coordinated between parties.

Affleck and Garner are seeking shared legal and physical custody of their three children, who range in ages from almost 5 to 11. Since first announcing their split in 2015, the former couple sparked several rumors of reconciliation, as they continued postponing their divorce and were spotted several times out and about with their children. The two have famously maintained a friendly relationship with one another and have often spoken well of the other in public. Just last month, in a public Facebook post, Affleck thanked Garner for her support during his stint in rehab. At the March premiere of Batman v Superman: Dawn of Justice, Affleck also sang the praises of Garner, calling her "a superhero mom." "She is an amazing mother and I'm really lucky to have her as a partner to co-parent these kids with," he told E! News. "We try our best, we put them first and that's what we do."

An unnamed source also told People (the outlet where the couple first announced their split) that the divorce was always in the plans and was only a matter of timing. "They just did it the way they wanted to and did what was best for their kids," the source told the publication. "There was no catalyst, it was just time. Nothing has changed, they are and still will be putting their kids first."
If all continues amicably, the divorce can be finalized before the end of the year, once the financial settlement is worked out by a judge, according to TMZ.