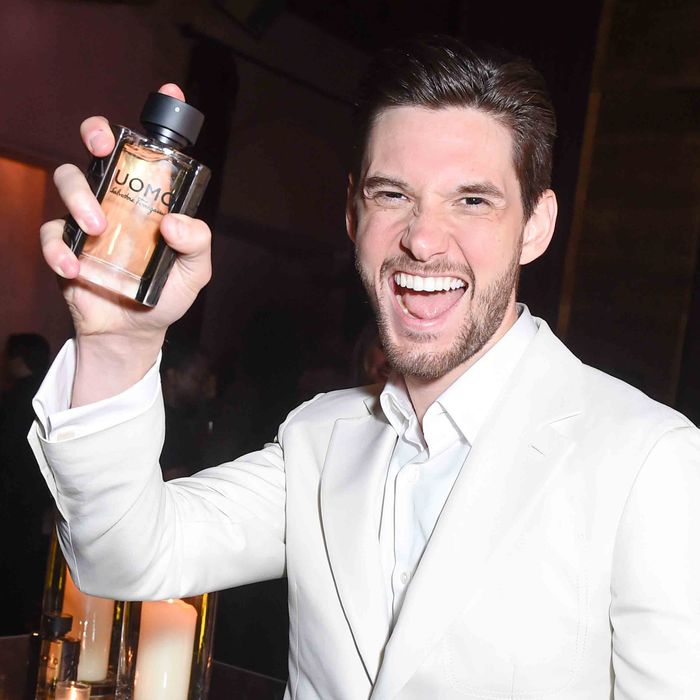 Ben Barnes.
Photo: Joe Schildhorn /BFA.com/Joe Schildhorn /BFA.com
As the new face of Salvatore Ferragamo's Uomo cologne for men, last night actor Ben Barnes hosted a launch party for the Italian fragrance. The Westworld star wore a white suit and presumably smelled like Uomo (the Italian word for "Man"): black pepper and cashmere wood. At the Gramercy Park Hotel Rose Bar, Barnes told the Cut about the fragrance star he does not want to be: those guys "with chiseled abs leaning against a rock in black and white, staring at the camera like they're going to kill you."
In a short promotional film for Uomo, which was directed by Francesco Carrozzini and screened at the party, Barnes the fragrance star is charming, not scary: He eats fruit in a crisp linen suit, somersaults over a couch, and holds a mint-green Ferragamo heel like a phone.
At the party, Barnes referred to himself as the "voice of silliness" while shooting the campaign (the shoe-as-phone bit was his idea). Ferragamo's director of women's footwear, Paul Andrew, said Barnes's sunny ease in the film was intentional, explaining the happy mood represents the brand's efforts to reach a younger clientele, the "daughters or granddaughters" of women who have worn Ferragamo for decades.
Also milling around the party were Susan Sarandon and her DJ son Miles, who wore a stylish Ferragamo jacket textured like camouflage, Hilary Rhoda in an off-the-shoulder midi dress, and a slew of Instagram influencers snapping Insta stories. Others interpreted "cocktail attire" more broadly — one woman had stylish wet hair, plenty of men wore silk Hawaiian shirts, but most pervasively there was black, leather, and black leather. Guests left the party with full bottles of the cologne in signature blood-red Ferragamo shopping bags.