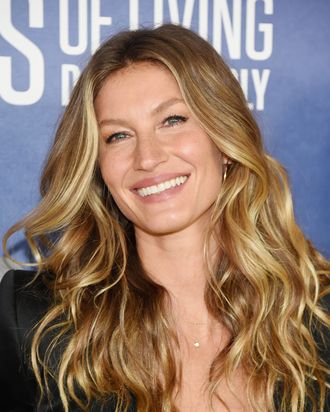 Gisele Bundchen's hair looks annoyingly great.
Photo: Michael Loccisano/Getty Images
There were five people at Gisele Bundchen's wedding to Tom Brady and one of them was hairstylist Harry Josh. Josh first met Bundchen when she was a "struggling" model, and used to color Bundchen's hair in his sink when he lived in a fifth-floor walk-up apartment. Josh has been doing her hair ever since, while creating one of the best and most-loved hair dryers and curling irons in the business, and acting as the spokesperson for John Frieda. Although Josh admits that Bundchen's hair is unfortunately, "naturally great," there are a few key products he uses to help it reach its full potential, and some other tools he always keeps in his kit for other clients who may not have been born with nearly perfect hair. I asked Josh below about his favorite dry shampoo, drugstore hair products, hair supplements, and the one product he uses to get hair as big as he wants.
MUST HAVE FOR BODY! And leaves hair looking shiny and feeling soft. Many people think of rollers as being something grandmas use, but that's not true — rollers can be modern! I love using them.
Who doesn't love a salt spray? This product is essential for creating sexy, messy waves. It adds amazing texture without being overly drying, which is a problem with a lot of salt sprays. I also love working this through hair even if I'm putting it up — it gives hair grip, which is necessary if you don't want hair to slip.
This spray gives volume, body, and lift, and it really feels good in hair. Not sticky. I spray it on wet hair before I give a beachy blowout.
I use this on all of my clients — it's a great foundation for a blowout. I worked closely with John Frieda for years and it's ALWAYS been in my kit. I love that I can use this on women with fine hair or thick frizzy hair. It's really helpful in allowing me to manipulate hair while I style. Plus you can purchase it at drugstores for under $10.
This is a MUST in my kit, especially when I'm doing big sexy supermodel hair. It's the only thing that gets hair as big as I want it!!! And all of his products smell great. I use this on dry hair to get hair even bigger after I blowdry.
Another one of my favorites from Serge. I love all of his products though, but this is my favorite dry shampoo. It smells great and it provides hold and volume — it really refreshes hair but gives it real style-ability.
I developed these essential tools to help real women and stylists alike achieve a perfect blowout and a variety of wave and curl patterns. My tools have innovative technology and the best wiring and motors/heat distribution to give the user amazing results in the least amount of time. The dryer was the first product in my line — the curling iron I developed a few years later. It has a removable marcel-clamp function (it can also be used as a wand).
Photo: (C) Zachary Goulko
I personally used to struggle with thinning hair and have tried everything available claiming to treat hair loss and thinning, but nothing seemed to work. I'm religious about taking my four pills daily with breakfast and I encourage all my clients to do the same. In addition to improving my hairline, it has helped manage stress and has been a great addition for my overall wellness. Especially in my field, I see and understand the needs of real women and their hair every single day — so I encourage them to strive for a healthier hair lifestyle overall, not just instant gratification.