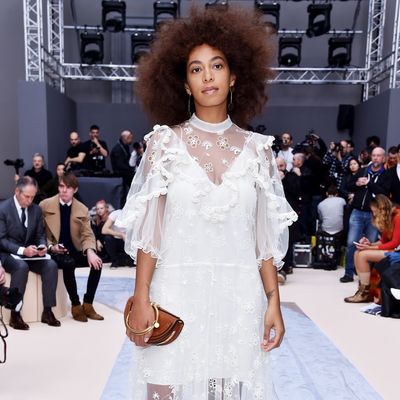 Solange, not at Coachella
Photo: 2017 Getty Images
Marooning yourself in the desert for three days doesn't sound particularly appealing, but then there's Coachella, where thousands every year do just that. Everyone's hot (in the temperature sense), but no one is hotter than the performers, who are tasked with delivering their brightest vibrato in the desert heart.
After Solange's two performances at the festival this year, the Cut wanted to know how the A Seat at the Table singer kept her cool. We spoke with her makeup artist Dana Delaney to find out. Here's what she had to say about weatherproofing Solange's makeup for Coachella, and the best beauty products to buy when it's seriously hot.
On Solange's Coachella skin care and stopping shiny skin:
It was like 112 degrees this weekend, and also really hot last weekend. In situations like that we try to avoid using any type of foundation on skin. I assessed her skin first to see where she needed moisture and where she didn't. I cleansed her skin with Bioderma's water cleanser, and then I used Bioderma's hydrating serum. I used that around the face and not in the center. In the center of the face I like to use a mattifying gel like Givenchy's Mister Mat, and that helps absorb any sweat and control shine. To get a little extra moisture without adding a heavy moisturizer, I like to use a hydrating spray. I usually use Urban Decay's B6 Prep and Priming Spray. Since I wasn't using any foundation, I wanted to make sure her skin looked healthy and primed. There's really nothing you can do to control sweat, but you can mask shine. After I do all the skin care I usually blot off any extra moisture with blotting papers. Solange really likes the Clean & Clear ones, so that's what I use for her.
On Solange's desert makeup:
Solange doesn't like a lot of heaviness on the skin. I sparingly used the Glossier stretch concealer in dark and used a fluffy brush to feather it wherever she needed coverage. I used NARS eye primer to mattify any oil on her lids. I layered Picky's lash clusters — their Refine and Classic lashes — and put those on the outer corners of her eyes to open them a bit. We like to keep it pretty simple, so I just mixed By Terry's Glow-Expert Duo Stick in Amber Light with my fingertips and dabbed that across her cheekbones.
On why powders are bad in warm weather:
When powder mixes with sweat, it starts to separate, and it doesn't look as smooth and clean. I'd rather use a mattifying gel — that works better and feels a lot lighter on the skin in the summertime. With sweat you want to remove it, not mask it. Blotting with either blotting papers or a paper towel will always be better than putting makeup on top of sweat. You're essentially making the problem worse and making a breeding ground for bacteria. Obviously Solange has really great skin. I'm not going to lie and say: "No one needs to use foundation." Obviously people have things they'd like to mask, but I say that less is more. Just spot conceal where you need it. Laura Mercier's Secret Camouflage concealer is really great because it doesn't move.
On why you shouldn't use waterproof mascara, even when it's hot outside:
I don't like to use waterproof mascara because I think it damages the lashes, but M.A.C. has a really great mascara called Extended Play. It puts little tubes on your eyelashes, so it doesn't smudge or transfer, but it also doesn't damage your lashes — it just falls right off when you're washing your face.
On the best foundation to use in warm weather:
For the girls who like to wear makeup, I'd say that wearing a matte foundation is probably the best move. I love Marc Jacobs's matte foundation. That can be heavy though, so just be careful with the way you apply it. I also like the makeup drops where you can control your coverage — I have to say that the NYX one is really good. It's like $14. You can add more drops for more coverage, but it doesn't feel heavy on skin at all.
On the best product to prevent boob and thigh sweat:
It's called Anthony No Sweat Body Defense, and that stuff is really great. It's a men's brand, but I use it especially underneath the bust line and on the upper thighs. It's basically a body anti-perspirant. You put it on as a cream and it transforms into a powder.
This interview has been edited and condensed.