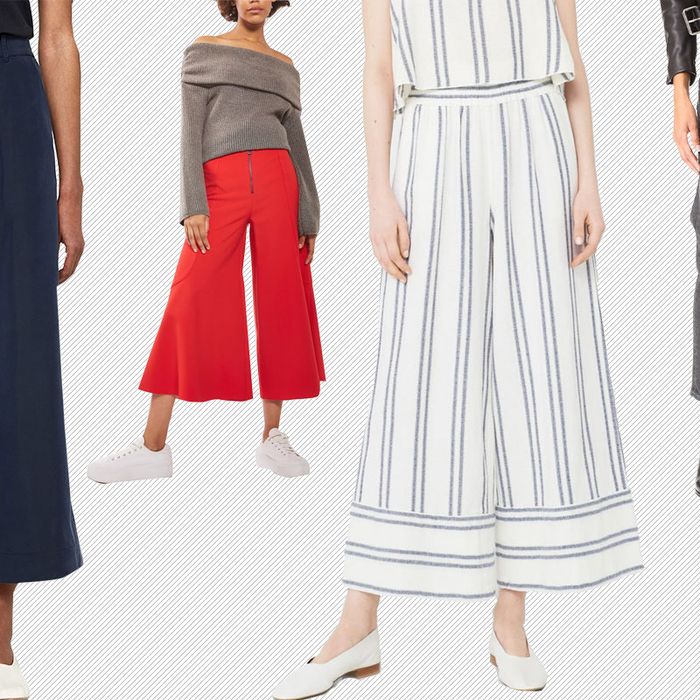 So you heard the siren song of unflattering pants and now you're thinking, maybe it's time to get a pair of my own? Or maybe that story validated your new shopping obsession and now all you can think about is how to add more of them to your closet. While it may seem like everyone's making a similar version of this high-waisted, cropped style, they're not all created equal. If this is your first foray into the trend, you can easily get the look for under $100. And should you want to spend a little more, there are a few ones worth dropping a few hundred on, so read on for our favorites.
The most common theme with these pants is that they're usually in muted, elegant colors. This one happens to be on sale and in the right shade of khaki.
Get the matching top and it's a fake jumpsuit you can actually pee in without having to get naked.
Yes, these are the Everlane ones that everyone either loves or hates. You try and decide for yourself.
Considering bright red was very popular on the fall runways, this pair combines two big trends into one neat little package.
The little frayed detail at both the waist and cuffs make these look far more expensive than they actually are.
The Cut's staffers called this Levi's style the gateway drug to ugly, awkward pants — even the name "Wedgie" is weird.
If you ever need to go anywhere to browse ugly-cool pants all day long, Need Supply is the spot. Their in-house line has a great version that's made from a thick cotton that feels substantial to the touch.
With this trend it's not just about the high-waist — there's also a focus on the weird hems that go along with it. Does it look like a drunk person cut it? You're cool.
Faded military green is another acceptable colorway.
These pants are really expensive but hear me out: I bought the exact style in a different wash last December. They skim my muscular thighs and, when hemmed to my 5'2" frame, make me look awkward-cool with sneakers.

For when you own too many pairs of the Sailor style, this is the next iteration.
If you buy something through our links, New York may earn an affiliate commission.