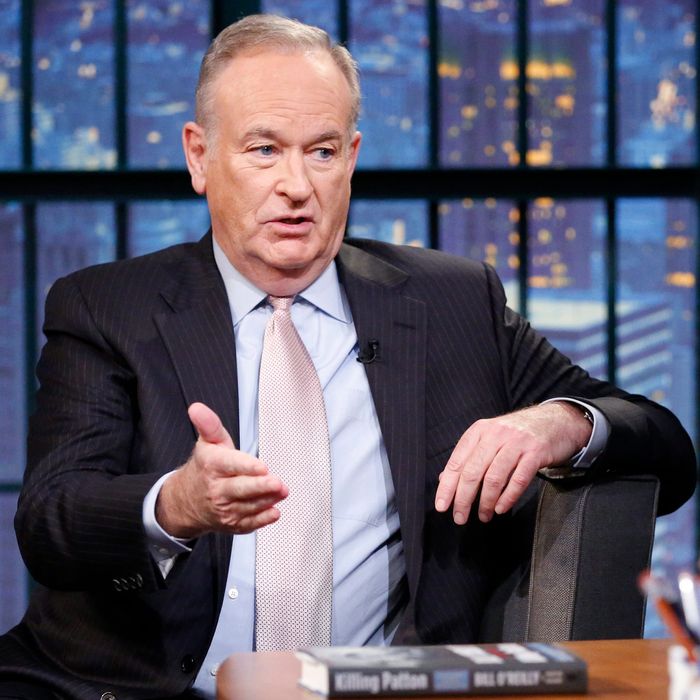 Bill O'Reilly's Old School mentions consent.
Photo: Lloyd Bishop/NBC
Earlier this week, a New York Times report revealed that Fox News anchor Bill O'Reilly spent millions of dollars to settle sexual-harassment cases against him. The five women who accused O'Reilly, all of whom worked for him or appeared on his show, "complained about a wide range of behavior, including verbal abuse, lewd comments, unwanted advances, and phone calls in which it sounded as if Mr. O'Reilly was masturbating," the Times reported.
Of course, those claims would seem to suggest that O'Reilly has a questionable relationship with sexual consent. But interestingly, a passage in his new book — Old School: Life in the Sane Lane — specifically addresses consent, including the phrase "no means no."
The book, which was published at the end of March, is largely a criticism of "Snowflakes: the people who blame everyone else for their failures [and] who are sooooo sensitive to every slight," the Huffington Post reports. But a chapter called "Social" devoted to dating advice includes this tip:
5) No means no. It would be easy to make fun of all the hoops college administrators expect their students to jump through today before they engage in any kind of intimacy. But there's no middle ground here. It's all about the Old School tenets of respect and responsibility. No means no.
The chapter ends with, "Never let anyone treat you badly. That's Old School."
After the Times report was published, dozens of advertisers pulled their spots from his show, and some people have even begun to question his future at the network. But President Donald Trump has defended his friend, calling him a "good person" and saying, "I don't think Bill did anything wrong." Maybe O'Reilly can refer his biggest champion to dating tip number five.