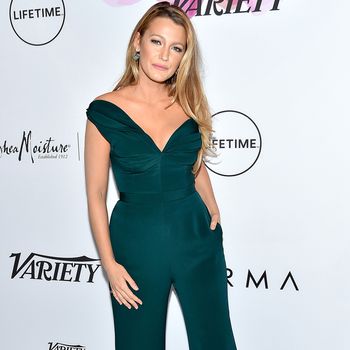 Blake Lively.
Photo: Mike Coppola/Getty Images
Blake Lively was at the Variety Power of Women New York event on Friday morning to receive an award for her work with the Child Rescue Coalition, a nonprofit that targets those who traffic and produce child pornography. But, because she's Blake Lively, her beauty was also a topic of conversation for mere mortals (red-carpet reporters).
The event, presented by Lifetime, honored Lively as well as Audra McDonald, Gayle King, Jessica Chastain, Chelsea Clinton, Tina Knowles-Lawson, and Shari Redstone for their various charitable involvements. Logically, many red-carpet questions centered around advice to young people, and how to navigate the current political spectrum.
When a female reporter asked Lively, who is the face of several beauty and fashion brands including L'Oréal Paris, what her "power outfit" was, Lively responded: "Come on, you want me to talk about an outfit today? Come on. Would you ask a man that? No, you wouldn't ask a man about power outfits. I'm sorry."
The reporter tried to backtrack as Lively explained that now is the moment when "we become more aware" of sexist red-carpet questions. Later down the line, another reporter (bravely) tried to ask about Lively's Gossip Girl character Serena van der Woodsen; Lively shut the question down by saying she preferred to "focus on the event."
The tense mood shifted inside the luncheon, where Lively gave an impassioned and graphic speech detailing the prevalence and types of child pornography. Several times she choked up while describing incidences she had heard about from law enforcement, or talking about her own daughters.
"I thought that people that are working with children are people that wanted to protect them," she said. "But oftentimes it's people who have this propensity for wanting to lure children and they find a profession that gives them access."
Lively is passionate about eradicating child pornography. Lively is also known worldwide for her style and deals with beauty and fashion brands. It's possible to talk about both.