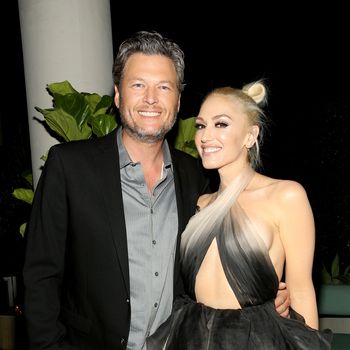 Blake Shelton and Gwen Stefani.
Photo: Rachel Murray/Getty Images for Glamour
What's a guy to do when his girlfriend's face is suddenly splashed across the facade of the Empire State Building? If you're Blake Shelton, you ask your fans for a little advice and help on how proceed. On Thursday, Shelton joked on Instagram about the odd predicament he suddenly found himself in when he saw the image of Gwen Stefani lighted up on the iconic New York City building.

As part of its 150th anniversary in print, Harper's Bazaar showcased 150 of the magazine's iconic covers on the Empire State Building. New Yorkers were reminded on Thursday of Stefani's 2012 September fashion cover when it lit up on the skyscraper. Shelton, like any proud boyfriend, gushed and re-posted the image on Instagram. He thanked "whomever put [his] girlfriends picture on the Empire State Building." But he also adequately summed up the new challenge he faces, namely: "How can I top that shit?!!"
Can someone lend the guy a hand?