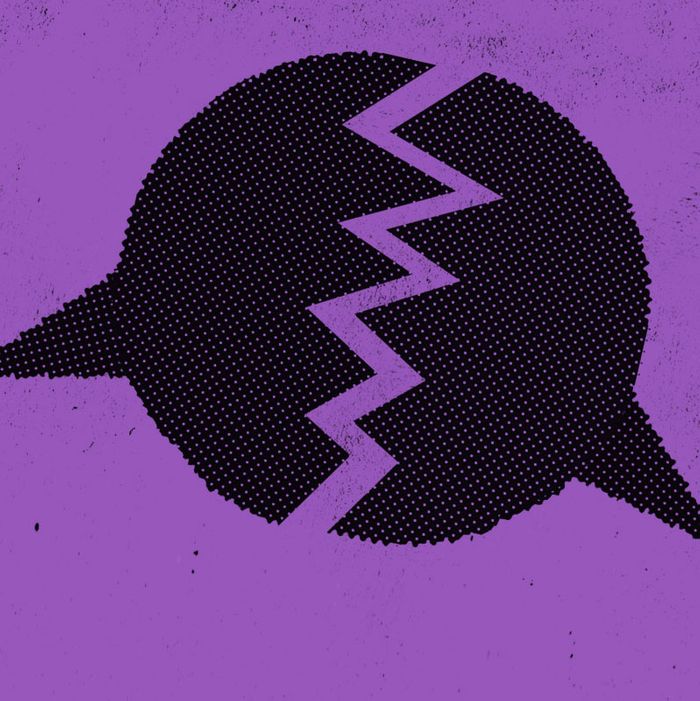 In "Both Sides of a Breakup," the Cut talks to exes about how they got together and why they split up. Ingrid, 42, and Jeff, 37, couldn't get on the same page, even though they tried a few times. This is their story.
Ingrid: From our very first date, I knew Jeff had a dark side. But I wasn't sure if it was, like, "artsy-sexy harmless dark" or "demonized-dark." If it was like a self-manufactured darkness, I knew we could get through that. A lot of single Brooklyn guys try "darkness" on for size and then realize it's just as cool to be nice and normal, that happiness and stability are not lame at all. I was hoping it was that.
Jeff: We met on Tinder. She was pretty aggressive about meeting up. Her pictures were cute — I was game. Our first date was a drink at a wine bar near her office. We had a nice time.
Ingrid: He was really, really quiet. Not just on our date — in the days following, even his texts were quiet. He'd text right back, but it was all so reserved. At this point, I was mostly just attracted to his face and hair. Ha! But, like, really, severely attracted to his face and hair.
Jeff: We did the typical dating trajectory. Sex on the third date after two bottles of wine. I don't mean to sound cynical but when you've been single for a while, it's all kind of predictable. It's nice for a few weeks, the sex is hot, and then you sort of … just … wait for the other shoe to drop.
Ingrid: I had to work hard to get this guy to come alive, romantically. I initiated our hang-outs for a few months. He was sweet in his own way. He always wanted to hold me after sex. He'd essentially melt into my body. And sleeping over … pretty much holding each other all night … was really important to him. He cried easier than most men — mostly talking about childhood stuff. He was gentle. The sex was incredible, of course.
Jeff: I'm a reserved guy. Product of divorce — I don't necessarily "trust" love. There's a little depression in there …
Ingrid: After maybe about seven months, it became clear that Jeff struggled with depression. He got laid off from his record label, where he was a top executive, then wasn't in a rush to find something new. He had never even been to therapy so there was no definite diagnosis, but the signs were there. This was not a deal-breaker for me at all — but I wanted to at least be real about it.
Jeff: Isn't everyone in New York a little depressed? Big deal. Isn't that where our humor comes from? Our art, movies, music, Woody Allen … I got laid off because the company was going to shit. It was a long time coming.
Ingrid: He would not go to therapy. Meanwhile, I turned 40. Jeff was not ready for kids yet. Everyone kept asking: What are you doing with this guy? But no one understands how hard it is to find someone you want to fuck all the time — and also hang out with as friends. I really liked him! No, I loved him.
Jeff: Sure, I loved her. I loved her from our first date on, I think. Her beautiful face, her kind heart, all of it. But she was rushing me, pushing me. And it all made me want to pull back and deliver zero of the things she needed from me.
Ingrid: I needed to see some forward movement on his part. Therapy. Meds. Kids. Something had to give. It was the dead of winter and he was just totally shut down, smoking a lot of pot, unemployed and depressed. I told him he had until summer to pull his shit together.
Jeff: I fucking hated getting ultimatums from her. It made me want to give her the opposite of everything she wanted.
Ingrid: So I left him early that summer. I was gearing up to have a baby on my own. I made the doctors appointments and everything. I missed him to death. There were tears. But man, I was strong. It was extremely painful, but I was the strongest I'd ever been in my life. I loved myself more than I loved him.
Jeff: I missed her so fucking much. It was pretty painful. My life just felt … over … without her. So I basically begged her to take me back … seriously, there was a time I was on two knees begging. I was so sure I had to be with her or else I'd never have a chance at a happy life. I told her I'd do anything to get her back — and I meant it.
Ingrid: I made him sweat it out. And I kept pushing forward on my own journey toward motherhood. It was a healthy distraction. And men just know when you're moving on. They always know, and they can't handle it.
Jeff: I was that pathetic, heartbroken, desperate guy. I'd send flowers, write poems, text her "I love you" at all times of the day. I got a really good job — and made sure she knew all about it. I knew she'd come around, but it felt good to make it my life's mission to give this woman everything she wanted. It's strange, but it was kind of like an awakening. I got over myself.
Ingrid: Yeah, of course, I took him back. Ha! But it was under two conditions: that even when things were good, we did weekly couples therapy. Preventive therapy. And, I wanted him to get me pregnant. He fought me on the second one, but it was non-negotiable.
Jeff: I guess I was kind of high on love at that point, so I caved. Also, my dad got sick and all these existential "circle of life" thoughts started to hit me. I slightly warmed up to the idea of having a baby.
Ingrid: We gave it another go. Couples therapy made us feel close and hopeful.
Jeff: Couples therapy was bullshit. What a racket.
Ingrid: I was really happy. It had been a dramatic year with all the Jeff antics, but he was acting like a really good, stand-up man, and I was hopeful. Then we officially got back together … and … take one guess? He would NOT come inside me. He pulled out every time. I was like, "What the fuck, man?" I felt totally betrayed.
Jeff: I couldn't do it. I just couldn't do it. My dick wouldn't do it. I don't know how to explain it. She lost her fucking mind over this. I mean, she literally lost her mind every time we'd have sex and I'd pull out. She scared the shit out of me when she was like that. She'd become a crazy lunatic within milliseconds of us "finishing."
Ingrid: I was just like, "Fuck you, you fucking asshole!" Our "getting back together" lasted six weeks. I dumped him again. He begged for another chance. But I didn't fall for it. We were over. And then I met my husband on Tinder — one week after saying good-bye for real. He was the first and only post-Jeff date I had. He is Jeff's polar opposite.
Jeff: A few weeks later, she said she was "in love" with someone new. I was like, "Wow." I stewed for a little but I'm happy for her now. She deserves happiness. She looks radiant in the pictures with her new baby, so that's good. I'm still single. I'm dating a few women. I want to date someone who's a little less intense than Ingrid. I just want to have fun and see where it goes.
Ingrid: We have a 1-year-old now. I'm the happiest I've ever been and that's saying a lot for a 42-year-old new mom. Jeff's a good guy. I wish his next girlfriend a lot of luck, but I do think he'll be a great husband and father someday. Just not on my watch!
Want to tell us both sides of a breakup? Email sexdiaries@nymag.com