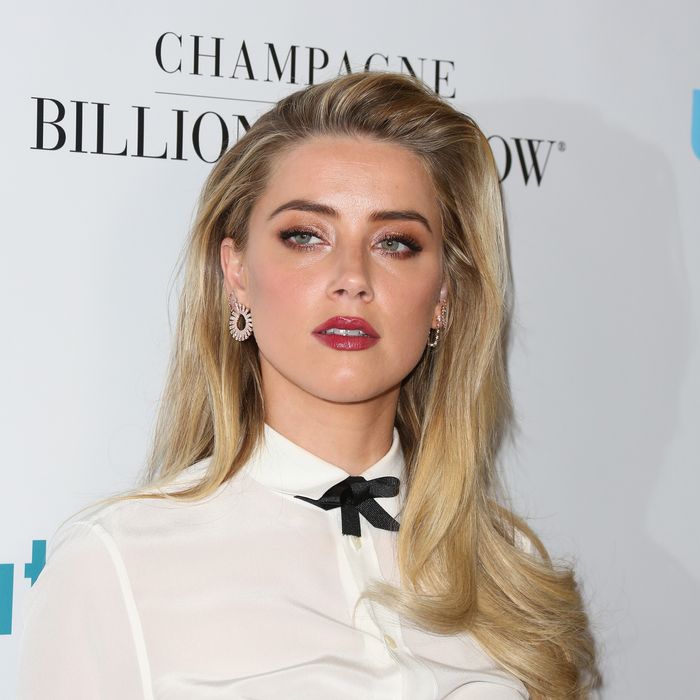 Amber Heard.
Photo: Paul Archuleta/FilmMagic
Amber Heard and Elon Musk are a thing. No, like, really. They're a thing. Or, at least, they're in that not-so-nebulous realm of "we're spending time together so make of it what you will but, yeah, maybe, I guess you can say we're talking." On Sunday, the two were spotted walking around the Gold Coast's Currumbin Wildlife Sanctuary in Australia (where Heard is filming Aquaman).
Now, what evidence do we have that there's something romantic possibly going on between the two? Let us examine the facts:

1) Heard and Musk walked about with their arms around each other, according to People. Not just that, but they held hands. (Whether fingers were intertwined is unclear, but you get the idea.)

2) They went zip-lining together as part of the sanctuary's challenge courses. That's a trust-challenge, if ever there were one. Also, you have to be really comfortable with the person you're doing this with because no one looks good in zip-lining gear.

3) They've been out and about for months, though they maintained the "we're just friends" line of defense. Most recently, Heard and Musk attended the screening in March of Al Gore's An Inconvenient Sequel: Truth to Power.
4) Heard's father reportedly said she wants to marry Musk. "Amber and Elon are both very serious about each other," Heard's father, David, told Grazia magazine. "She would love to get married. One of the things they want to do is settle down and have a family. They are making plans for that."
5) And last but not least, we have Heard's very own stamp of approval on social media. She made their relationship "Instagram official" with this photo of the two dining. And oh, yeah, there's a very visible lipstick print on Musk's cheek.
Heard also shared the image on Twitter and earned herself a reteweet from Musk. For a man who once professed his lifelong love to his ex-wife on Twitter, that's saying something.