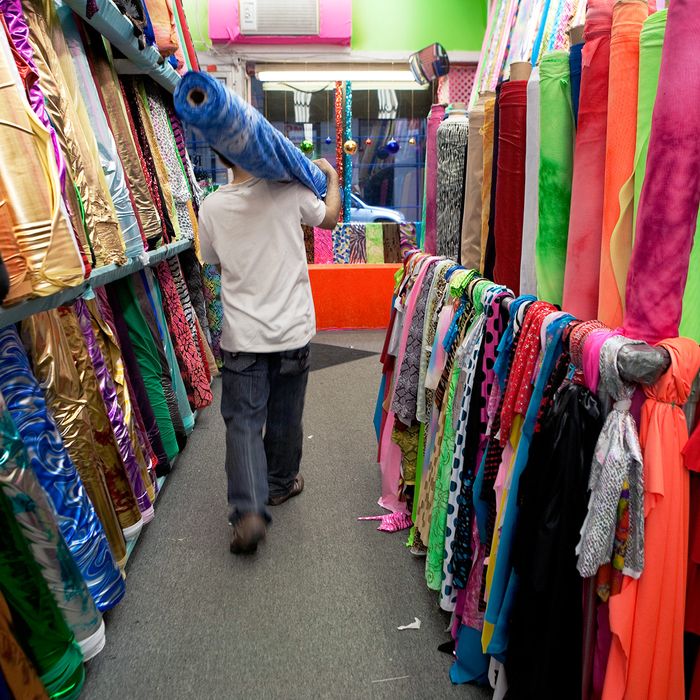 A worker in New York City's Garment District.
Photo: Getty Images
"I left Europe and arrived in New York with a baby in my belly and a suitcase full of little dresses made in Italy," Diane von Furstenberg recalled this morning at a CFDA press conference held to discuss immigration reform in the fashion industry. "With these dresses I lived an American dream." Von Furstenberg and CFDA CEO Steven Kolb arranged the event, held jointly with the immigration-reform lobbying group FWD.us, to talk about how fellow immigrants can follow in DVF's footsteps and establish their own American dreams, and their own fashion businesses, in New York.

It goes without saying that immigration is an increasingly hot-button topic with every wave of executive orders and ICE raids that makes the news. But beyond that, the immigration system as it exists now is notoriously clunky, difficult to navigate, and not particularly adapted to the fashion industry. Several speakers referred to it as "broken." For example, models must currently apply for the O-1A visa, which is normally extended to scientists and athletes, rather than for the O-1B, granted to extraordinary individuals in the arts. Representative Carolyn Maloney, who spoke at the event, floated the concept of a "fashion visa," which would be specific to those in the field. "There are fashion hubs around our country that are employing a great number of people," she said, "and if we don't reform our immigration laws, we are only hurting our country." Maloney pledged to work with the CFDA and FWD.us on drafting legislation to change the immigration policies affecting this sector.
The CFDA and FWD.us released a white paper this morning to share the results of a fashion-industry survey they conducted about immigration policies and their impact. Among the top concerns of the leaders they consulted: attracting and retaining the best talent, a task made more difficult by the current immigration policy. (We've seen similar woes across the pond as London's fashion industry — also born out of international cross-pollination — begins to cope with the effects of Brexit.)
For example, Maloney pointed out that 40 percent of Parsons' student body is international, and many of those students must leave New York after graduating, at great loss to the city's talent pool. Todd Schulte, the president of FWD.us, also noted that one-fifth of American clothing-manufacturing workers are undocumented immigrants, and argued that those individuals deserve a path to citizenship. As City Council Speaker Melissa Mark-Viverito put it, "creating barriers for immigrants hurts our economy and weakens fashion businesses." It could also deprive us of New York's next generation of DVFs.