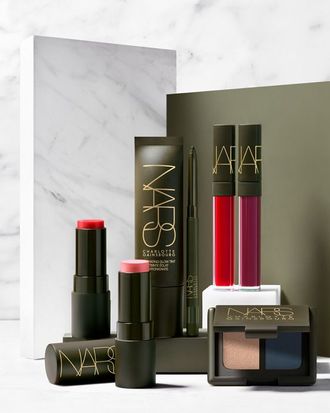 Charlotte Gainsbourg's NARS collection.
Three separate non-beauty-editor friends have texted me about NARS's newest makeup collection with Charlotte Gainsbourg. "The kohl liners are amazing, and the texture and weight of the pencil is perfect," said my friend Christine (She would know, because like a different Charlotte — Tilbury —she's worn a cat eye every day of her life). "I'm getting my makeup done now at the NARS store, do you have this skin-tint thing? I love it!" wrote my other friend Sierra.
Before I interviewed Gainsbourg, I didn't really get a chance to play with her makeup collection. But now that I've had a chance to thoroughly test the whole collection, I think Francois Nars should be formulating with one eye open, because Charlotte Gainsbourg could be gunning for his job.
Most celebrity makeup collections, despite what you may read about in interviews, are half-hearted endeavors either by someone who doesn't really know makeup or care (or both!). Sometimes the products aren't even new, they're just new shades with a celebrity-chosen name to indicate their high level of "involvement." But despite not "really" wearing makeup, Gainsbourg appears to have shunted all these common celebrity blunders.
It appears that every piece in the collection is good, if not great. The Kohl eyeliners come in beautiful, moody shades beyond black, including a dark forest green (Cours du Soir), midnight navy blue (Nuit D'Encre), and a steel gray (Zinc) because Gainsbourg clearly knows that different dark-colored eyeliners are the easiest way to make your eye pop without resorting to a neon color. The Multiple Tint is also an entirely new formula, a matte take on NARS's famous Multiples, and is a matte powdery tint that can be used on the lips or cheeks. It is definitely not sheer, but the colors that Gainsbourg chose, a coral and two different shades of red, are just right for patting a little lived-in color as a blush or light lipstick. I can't stop using either of the two colors, the pink-gold shimmer and matte navy-turquoise, from the eye-shadow palette in Old Church Street — me, a person who wears eyeshadow twice a month at most.
Eyeliner that won't run down your face and yet is super easy to draw on.
Another new formula is Gainsbourg's well done take on foundation-lite. If you're lucky enough to have the Hydrating Skin Tint be in your color, consider yourself blessed. I am sadly between two of the four shades, but everyone else I gave these samples to in the office has loved it. If you think Glossier Skin Tint is too minimal, if you think "Skin is in," but you want a little more coverage and a feeling of "doneness," this is for you. It's the lightest version of whatever your favorite foundation is, but with a super hydrating texture that moisturizes the skin and lets it be seen, while giving it just the tiniest bit of polish.
The Gainsbourg collection also includes a brush set with a brush roll so sleek that it looks like the fancy knife roll my brother bought in Tokyo. And two types of lip products, which have perfect red and nude options, including a coconut-oil lip tint. But you get it! Everything is good.
A matte tint for your lips and cheeks, with a shade named for Jane Birkin.
Your new summer go-to for skin coverage.
An eye-shadow duo featuring colors other than brown that are super flattering for all eye colors.
A medium-coverage lip tint that's infused with coconut oil and won't dry out your lips. And it gives them just the tiniest bit of shine.