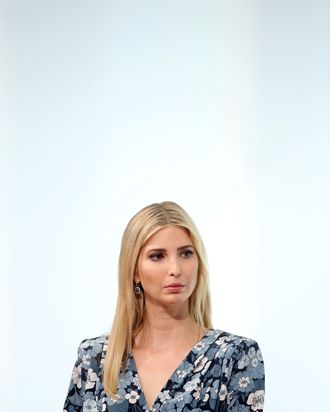 Workers who make Ivanka Trump clothes are reportedly subjected to harsh conditions.
Photo: Sean Gallup/Getty Images
By now it's common knowledge that, although she professes to support her dad's "buy American, hire American" agenda, all of Ivanka Trump's clothing line is manufactured overseas — most of it in China. The apparel group G-III has a licensing agreement with the First Daughter to make and distribute her line, and according to the Washington Post, an inspection of one of the company's Chinese factories found 24 labor violations.
Inspectors with the Fair Labor Association, a Washington-based group, toured the factory in October and found that laborers were regularly required to work 57-hour weeks to meet production demands. They made between 1,879 (about $275) and 2,088 yuan (about $303) a month, which is below minimum wage in parts of China. It's also well below the 4,280 yuan a month made by factory workers in urban China, according to data from 2014.
Between August 2015 and September 2016, factory employees also exceeded the Chinese government's limit for overtime by 46 hours a month, earned just five vacation days a year, and were not trained in safety techniques to reduce injuries.
When the Fair Labor Association let the factory know about its violations, it promised to improve pay and hours, but "pushed back" on things like safety requirements, the Post reports.
The association's report didn't give the name or location of the factory, which means it's unclear whether workers were actually making Ivanka Trump clothing at the time of the inspection. Ivanka stepped down from her fashion line in January (although she still receives payouts from the line, which was folded into a trust worth $50 million) and has no leadership role with G-III, but in a 2012 statement she called the company "a trusted partner for some of the world's finest and most visible brands."
This isn't the first time G-III's policies have clashed with the First Daughter's professed beliefs — during the presidential campaign, the company's employees told the press they don't get paid maternity leave.