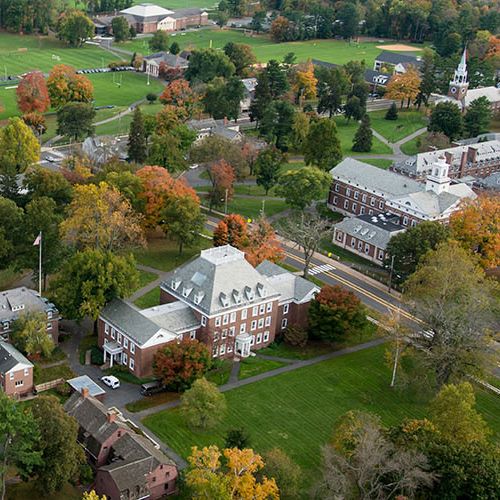 Choate.
Photo: Choate.edu
At least 12 former teachers at the elite Connecticut boarding school Choate Rosemary Hall have sexually molested students since the 1960s, according to the New York Times. The abuse was detailed in a report released by the school on Thursday, including instances of "intimate touching," "intimate kissing," and at least one rape.
The school received a complaint about the abuse from parents of a Choate student in the early 1980s, after their daughter contracted herpes from an English teacher, the Times reports. Additionally, the report — which was prepared by an investigator for Choate's board of trustees — revealed that a teacher raped a student on a school trip to Costa Rica, and that in 2013, two alumni complained of abuse they experienced as students. Yet, the abuse was never reported to the police. Per the Times:
In some cases, teachers were allowed to resign after being confronted with evidence of misconduct, and administrators wrote letters of recommendations for teachers who were fired.
The findings of abuse at Choate — located in Wallingford, Connecticut — come after a "string of investigations" into similar accusations at other prestigious private schools, including Horace Mann and Poly Prep in New York City and St. George's School in Rhode Island. "They are closed systems, especially residential private schools where kids are separated from their parents. It's not like a public school, with people coming in and out all the time," Paul Mones, a lawyer that represents victims of sexual abuse, told the Times. "There are many more opportunities for teachers to do this."
The Boston Globe published an article in 2016 detailing abuse at the school, and Choate appointed an investigator shortly afterwards, the Times notes. The investigator's report includes the names of 12 former faculty members who allegedly abused students — and in some instances, the sexual relationships continued after the students left the school.
The report's description of the aftermath of the alleged Costa Rica incident was particularly disturbing. Per the Times:
In the Costa Rica episode, a Spanish teacher named Jaime Rivera-Murillo is said to have raped a 17-year-old student in a swimming pool after drinking heavily with a group of students. Another student came to the young woman's aid. The next morning, students told the school's administration what had happened, and the dean of students went to Costa Rica to investigate. Mr. Rivera-Murillo was called back to the school and fired for "just cause," but he went on to work at several other Connecticut schools, including as the principal of a high school in Litchfield County. He resigned from that post this month after the Choate investigator contacted him and the district superintendent.
The chairman of the board of trustees, Michael J. Carr, and Choate's headmaster, Alex D. Curtis, apologized and thanked victims for coming forward in a letter accompanying the report.