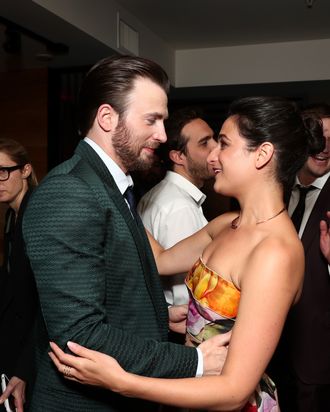 Chris Evans and Jenny Slate.
Photo: Todd Williamson/Getty Images for Fox Searchlight
Ever since the great Conscious Uncoupling of 2014, befriending your ex has overtaken sending your ex's life up in flames as the preferred mode of Hollywood breakup (with some notable exceptions). A new contender for the friendliest exes in the industry? Chris Evans and Jenny Slate.
A week after Slate called Evans "truly one of the kindest people I've ever met" and Evans gushed that talking to Slate is "like an art form," the couple appeared on the red carpet together at the premiere of their movie Gifted, embracing each other and posing with Evans's arm around Slate's waist.
Alas: If they can't be our favorite couple, we guess favorite exes will have to do.