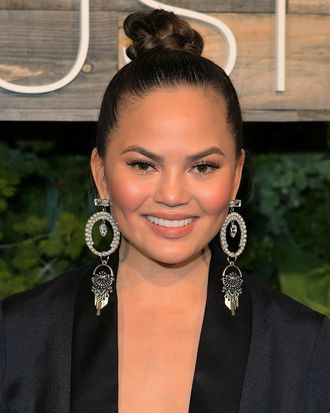 Chrissy Teigen is going to make shiny highlighter.
Photo: Charley Gallay/Getty Images for H&M
Chrissy Teigen has seen the nationwide craving for highlighter and she's here to help. Today, she announced on her Instagram, while clad in a lab coat and chef's top hat and blowing a shimmer cloud kiss towards the camera, that she'll be working with Becca Cosmetics, the brand known for its great, and very often sold-out luminizers. Becca confirmed the collaboration on their own account, but didn't mention any further details about Becca X Christy. In any case, Teigen's highlighters are sure to be "so delushious" — and can Cheeto-dust highlighter be an option?