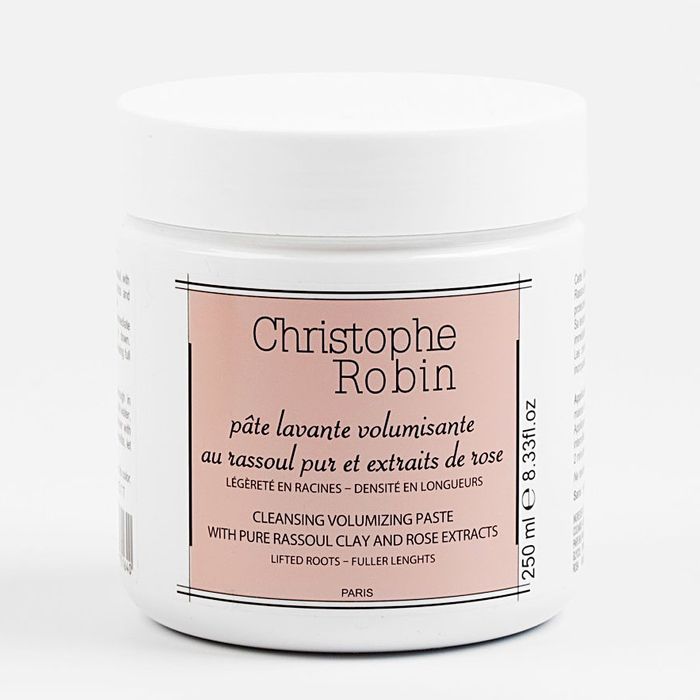 Christophe Robin Cleansing Volumizing Paste
I've been on a dry-shampoo detox. Even though I've been using one that actually makes my hair feel cleaner, there's a difference between feeling clean and actually being clean. My scalp knows. As the weather changes, my scalp has been all out of balance. Dry one day, oily the next, and prone to the occasional flurry, even in April.
It needed a recalibration or tune-up, in the form of the warm Christophe Robin, Catherine Denueve's hairstylist of 20 years (he's also worked with Stephanie Seymour and Ines de la Fressange). Robin's product line, although luxury-priced, is one of the best sellers in hair care in Sephora France. "This is for you," he said, pushing a dusty-rose pink jar of his newest shampoo to me. Then he explained how he developed the first clay-to-foam shampoo. When you feel a breakout coming, common beauty knowledge dictates that you reach for a oil-reducing, detoxifying clay mask of some type. Now there's one for your hair.
Formulated out of Moroccan rassoul clay, a natural burgundy-hued mineral clay from the Atlas Mountains of Morocco, a quarter-size dollop of the paste easily transforms with water with become a light, foamy, sudsy mousse. Robin instructed me to take particular care in massaging it into my roots before washing it out. "It will help with the scalp, but still give you, volume, volume!" he said, gesticulating. It also helps temper excess oil on the scalp, soothes irritated and flaky patches, and unlike most detoxifying shampoos, won't give you flat hair even while deep-cleaning it.
Immediately after using it, my hair felt soft and bouncy, not limp. But most impressively, my hair retained the clean feeling, its malleability, and verve for several days afterwards — all without the aid of any dry shampoo or powder at all. Not even one spritz. I thought at first it was a beginner's fluke, but found the same effect when I used it for two weeks straight. I ran out of dry shampoo recently, but for once, I haven't even bothered to restock.
Christophe Robin Cleansing Volumizing Paste with Pure Rassoul Clay and Rose Extracts