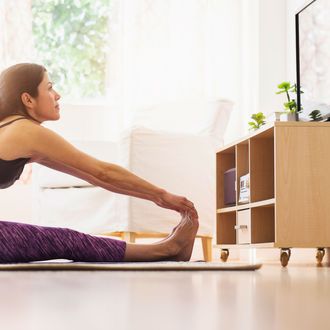 Photo: Tetra Images/Getty Images
ClassPass has a new offering to placate the many people upset by its recent pricing and membership-plan changes: Video workouts. You can get your Jane Fonda on via the app and website, which has been updated to include Video on Demand, a library of over 100 video workouts. All ClassPass users can access 5 to 30-minute videos from popular YouTube instructors like Cassey Ho of Blogilates to teachers from local workout studios such as PatriciaFit and Laughing Lotus Yoga. The library will be be continually updated to include new content.
ClassPass Founder and Executive Chairman Payal Kadakia said of the new offering, "Video on Demand is the first of many digital products we'll be debuting, all designed to keep our members moving while also giving our partners another powerful way to engage with our members." It's not the same as the unlimited plan, but at least now you don't even have to wear pants if you want to do burpees.