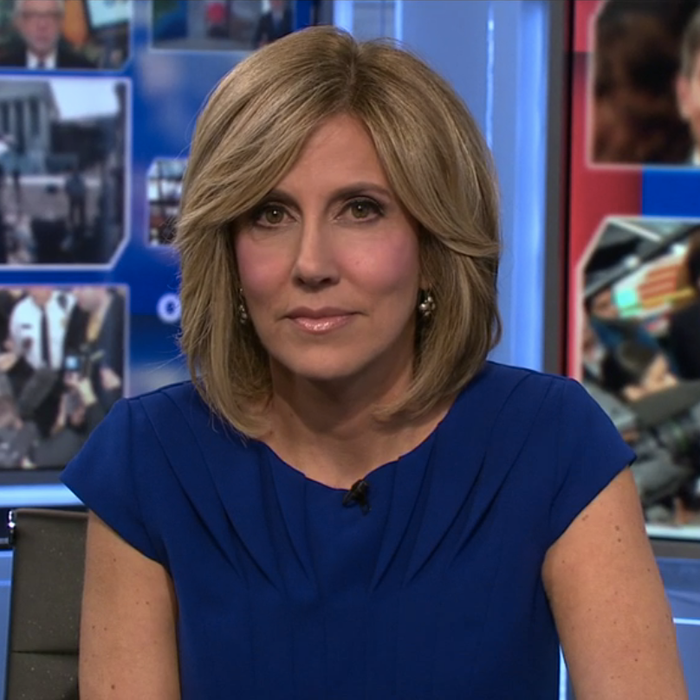 Alisyn Camerota.
Photo: CNN
Yet another former Fox News anchor has spoken up about being sexually harassed by Roger Ailes when he was her boss. Alisyn Camerota, who is now at CNN, confirmed during an appearance on CNN's Reliable Sources that she was also a target of Ailes's harassment.
During a candid interview with Brian Stelter, Camerota explained that she was finally coming forward despite her trepidation because "something feels different this week. It felt like there was a tipping point this week … When Roger Ailes was ousted in July, there was a lot of talk about what the culture was there and now, with Bill O'Reilly having been fired, it feels as though, if I take the Murdochs at their word, they really want to know what was wrong there and what the culture was like, and I don't know how you get that from silence. So it feels like this might be the right time to just have this conversation and let some daylight in."
When Stelter asked if she'd been sexually harassed by Ailes, she replied, "Yes, Roger Ailes did sexually harass me," adding:
Let me be clear. Roger Ailes was — could be charming. He could be quite charismatic. He could be uproariously funny. He could also be a bit of a bully, and mean. And he also was often kind of grossly inappropriate with things that he would say, and I think that many of us experienced that. He would talk about body parts. He would say 'Give me a spin.' He would want to be greeted with a hug.

But the time that I remember most was when I was first starting out at Fox and I was single, and I remember Roger, being in Roger's office, and I was saying that I wanted more opportunity. He said 'Well, I would have to work with you. I would have to work with you on that case. I would have to work with you really closely, and it may require us getting to know each other better, and that might have to happen away from here, and it might have to happen at a hotel. Do you know what I'm saying?' And I said 'Yeah, I think I do know what you're saying.'

And I just want to say that I knew in my head, at that moment, I'm never going to that hotel under any circumstances, but I didn't know what that meant for me and for my career.
Camerota wondered, "Is this it? Is this the end of my time here? Will I be fired if I don't do this?" She said she didn't tell anyone "because I was embarrassed, and it is sort of humiliating." After that, "he changed his MO" and "it was no longer sexual harassment, it was harassment of a different variety … It was sort of emotional harassment." She also became a target for Ailes because she didn't come across as conservative as he'd have liked on air.
"Sometimes he would lecture me. Sometimes he would insult me," she said, later adding that his behavior was one of the reasons she left Fox. "I didn't want to only have to talk about Roger's agenda and the things that Roger thought were best for this country … It became clear to me fairly early that I was in a dead-end job" because of her reluctance to kowtow to Ailes's conservative agenda.
However, Camerota defended the network and its employees in general, including the second-tier of management under Ailes. "They were always good to me. They tried." She said she hoped it would help other businesses change their corporate culture as well. "I do think this is a turning point, and if everything that's happened at Fox is valuable in that way, then I hope that people are more free to speak there and everywhere now."