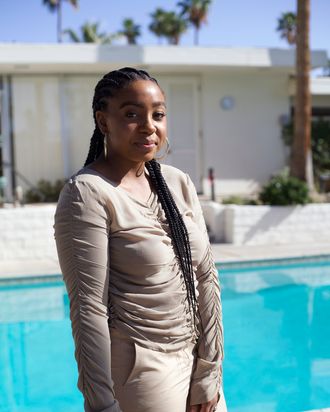 Day one.
Photo: Andre Wagner
As a market editor, I have received 132 emails offering me flower crowns for Coachella. For me, that is 132 too many flower crowns. So for the benefit of my non-boho sisters, I will be chronicling all my Coachella outfits and fun events in this space, as well as on the Cut's Instagram. Check back here every day for an update.
On my way to Coachella, I wanted to wear something comfortable for the ride that wasn't sweatpants. This Fila's jersey dress reminds me of 90s music videos featuring Missy Elliott and Jennifer Lopez, and it' goes perfectly with my cornrows. Thanks to Chevrolet, I also had the coolest ride for the weekend, a 2017 Chevrolet Camaro SS 1LE in krypton green. It was a beauty to drive all weekend in the mountains of Indio, and I cannot tell you how many people came up to me complimenting my dress and this car during the time this photo was taken.
My second time around at Coachella, I still don't consider myself a 'pro' at festival fashion, but I do know I still would never be caught dead in a flower crown, fringe, or suede booties that seemingly everyone has bought for this festival. I decided on this shirt from Shaina Mote simply because it reminds me of Solange — it's easy, breezy, slightly see-through sexy but not too much. Paired with simple slacks from Aritzia, metallic slides by Gray Matters, and a woven tote from Samuji, it's an outfit I can wear to parties all day and fancier dinners tonight.
Shaina Mote Top, Price Upon Request at Shaina Mote, Aritzia Pants, $88 at Aritzia, Samuji Bag, $400 at Samuji, Gray Matters Mules, $487 at Gray Matters
Day 2 has me going to about 6 different parties and the festival later on tonight. This slip dress from Topshop is super light, and I love how the orange glistens against my brown skin. Though it looks good with mules, it'll also look cute when I slip into vans later on tonight at the festival. Paired with a studded choker and tangerine denim jacket from ASOS for when it gets cold later on tonight, it's fun and functional.
Topshop Dress, $125 at Topshop, ASOS Jacket, $61 at ASOS, ASOS Mules, $35 at ASOS, Baublebar Choker, $58 at Baublebar
Day 3 and it's so hot here I've been singing the Nelly lyrics to try to make light of the heat. To keep cool, I opted to wear a Gucci t-shirt and cropped jeans. Even though the t-shirt is white, it's quite comfortable so I'll just have to do my best to not get it dirty. These H&M jeans I bought on a whim and I'm so glad I did because they have the perfect balance of stretch and the vintage look which is extremely hard to find when you're curvy. And the Agmes earrings (one of my favorite jewelry brands) are actually pretty light, adding some dimension to the outfit.
Similar Gucci T-Shirt, $550 at Gucci, H&M Cropped Jeans, $39 at H&M, Agmes Earrings, $530 at Agmes.