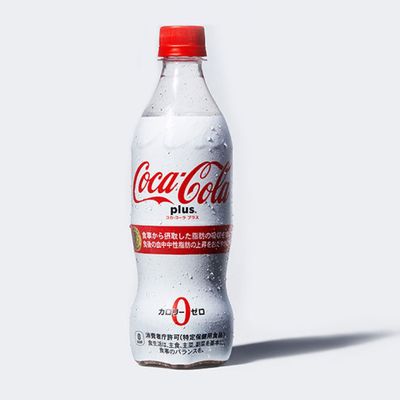 Coke Plus.
Photo: Coca Cola Japan
Soda consumption may be down, but Coca-Cola is being proactive. They've introduced the soft-drink equivalent of green juice: Coke Plus.
Coke Plus, a Diet Coke with 5 grams of fiber, is part of an initiative to add "functional beverages," CEO James Quincey told Business Insider on Tuesday.
The drink, the functions of which are better left to the imagination, has been available in Japan since February. It joins the brand's healthy(ish) collection: Diet Coke, Coke Zero, and Coke Life. If Coke isn't your thing, there's also a Canada Dry Plus.
The company is responding to a "fast-growing segment where ingredients are added to beverages to address specific dietary needs," according to Quincey. They could also be responding to slumping sales, health hits on Diet Coke, and the announcement that they plan to cut 20 percent of their corporate jobs.
But hold on to your Metamucil — the drink is currently only available in Japan, with no known plans to expand to the U.S.