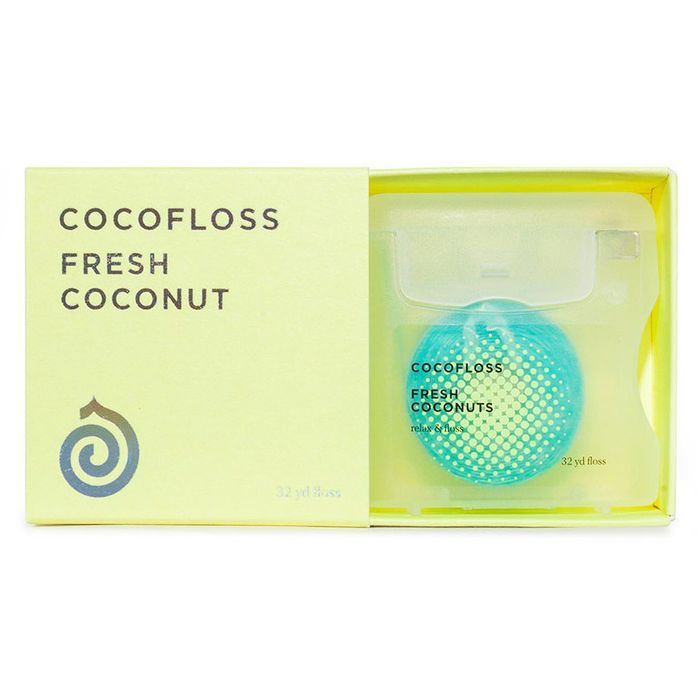 These days, the act of smearing moisturizer on your face and the multistep skin-care routine have been rebranded from "chore" to fancy "ritual." Blame marketers, ITG Top Shelves, or our own increased sense of self, but it's only a matter of time until all your traditional hygiene practices receive similar repositioning. It will be tough with flossing, though. Dragging a laminated piece of string between your teeth crevices to dig out plaque is a decidedly unsexy experience. But a new, better-designed dental floss called Cocofloss at least makes the experience almost joyful.
Innovations in the flossing category are rare and far between, but like all new things nowadays, Cocofloss comes with an additional wellness selling point. Chrystle and Cat Cu, a dentist-artist sister duo from San Francisco, developed a microfiber coconut-oil-infused floss that better scrubs and cleans your teeth, and comes in artisanal "flavors" like cara cara orange, strawberries and cream, and coconut. The secret is in the floss itself, a soft filament that's lightly waxed, durable enough not to shred or tear even with the most aggressive flossing motions, and with a unique, subtle gripping feel to the thread. The texture almost attracts and snatches the debris from in between your teeth, acting like a exfoliating loofah of sorts, for your gums.
Thanks to what dental professionals would call "tight" teeth, I've been using the thinnest, non-waxed dental floss available for years. I was worried that the Cocofloss would get stuck in between my teeth, leave my gums bloodied and battered, or that the "flavor" of the floss would be as aesthetically tasty as the exotic flavors of dentist fluoride (piña colada, ugh). But while the Cocofloss doesn't quite "glide" into teeth and takes a little more effort to use than my typical Oral-B Glide, that effort results in more caught plaque and cleaner teeth. The "flavors" are also more of a scent than a taste, so you don't feel the need to brush your teeth again. The packaging of the floss is cute enough to even be sold at Free People (festival essentials, maybe?), with 32 yards of floss neatly coiled in plastic container that clearly tells you on the back how much floss is left. It's already been Goop-endorsed, but you can also buy it on Amazon, and if you love flossing that much, get a subscription plan.
Cocofloss 3-Pack