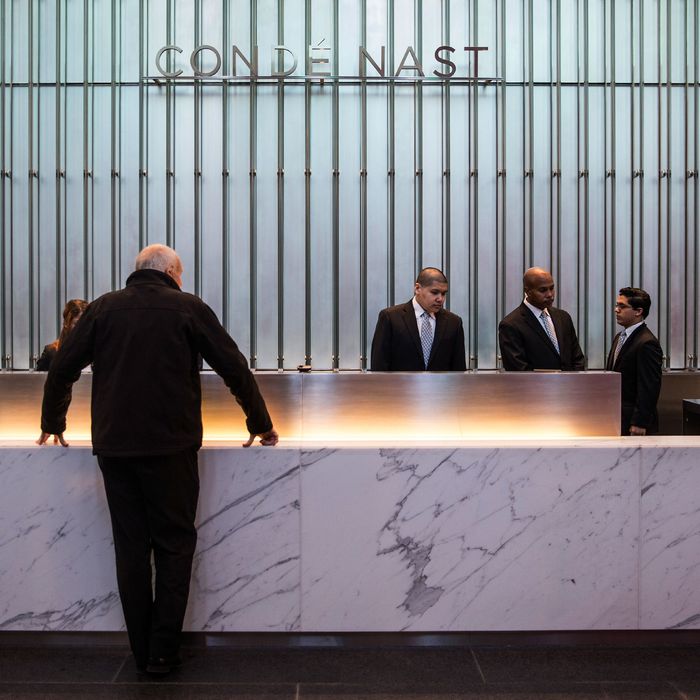 Condé Nast.
Photo: Andrew Burton/Getty Images
As the so-called gig economy grows more competitive and more perilous for its underpaid, underinsured, and overworked freelancers, there's apparently a new development for workers who are upset that contractors are not paying them on time: If you elect to take a pay cut, you'll get paid faster.
This new worker-damaging trend reportedly comes to us from publisher Condé Nast. In a vendor contract obtained by Fashionista, this option for freelancers is laid out: "At the top of our project list is an accelerated payment option, which will allow you to get paid more quickly when a small discount taken off the invoice is accepted. There will be more news coming out on this enhancement over the next few months."
When freelancers air grievances about not getting paid on time by their contractors, getting paid less was not the resolution they were hoping for.
[Update, 4/3/17, 9:06PM]: A spokesperson for Condé Nast has sent the following statement:
We have and will continue to pay freelancers within 30 days but wanted to offer them some flexibility and have added this industry-standard option.
[Update, 4/4/17, 12:05PM]: Condé Nast sent the following internal memo to clarify their freelancer-contract snafu, maintaining that independent contractors will be paid on time and in full, but large vendors have the option to get paid less, quicker. Here's the statement sent to the Cut, via Condé's CFO, David Geithner:
I wanted to take a moment to clarify and expand on a website communication to our vendors yesterday (which included our community of independent contractors/contributors) that has caused some confusion.

In an effort to provide added convenience for enterprise corporate vendors who are on a 90-day payment plan, we are introducing a flexible option that includes a modest fee for accelerated payment. We are not changing payment terms of existing contracts, except to provide those vendors with a new benefit.

This new practice does not apply to our independent contractors/contributors; our policy is to pay them within 30 days from invoice date or pursuant to any agreed upon terms, or as otherwise required by law.