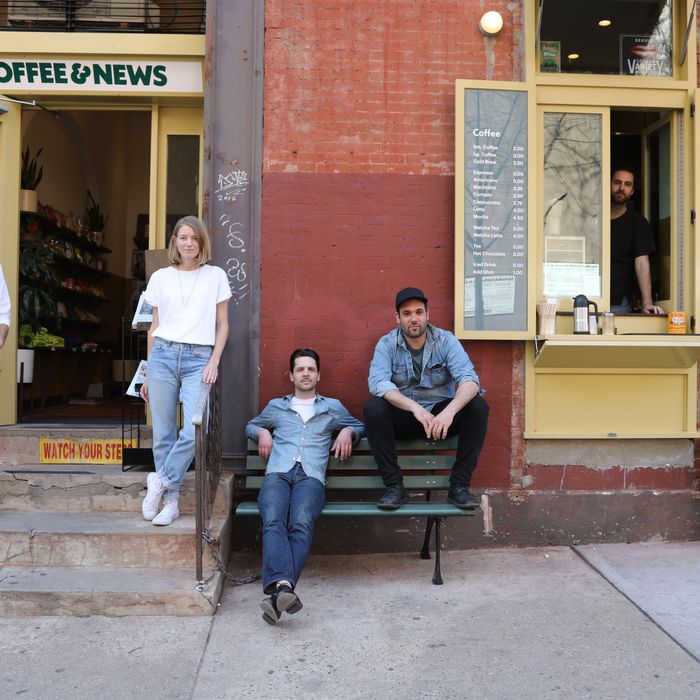 Import News co-founders Ken Miller and Sasha Laing with Oliver Coffee partners Aisa Shelley and Lucas Moran, and employee Francesco Saxton.
Photo: Aliya Naumoff
Rewarding curiosity is the idea behind Import News, a new globally minded shop selling magazines and snacks in Chinatown's Chatham Square. "We sort of joke that the store is somewhere between an Italian train station café, a Japanese 7-Eleven, and a New York newsstand," co-founder Ken Miller says. He and Sasha Laing opened the space recently in partnership with café Oliver Coffee and filled the store with indie publications and snacks from countries like Japan, Mexico, and Germany.
"We thought it would be awesome if we could pick stuff from around the world that people could discover — really simple, accessible things like snack foods that people can enjoy but not have it be a big, intimidating, pretentious experience," Miller said. He and Laing research and taste-test snacks from around the world before putting them on the shelves. For a current partnership with the London-based store magCulture, Import News asked magCulture's creative director Jeremy Leslie to pick some of his favorite magazines; they're now selling them in the store.
Miller and Laing recently opened a second location in San Francisco, where Import News is partnered with Fellow Barber. Miller says they hope that the spaces will serve as a mellow and informal hangout spot for the community where people can explore the world on the spot.
Import News is open 7 a.m. to 6 p.m., Monday to Friday, and 9 a.m. to 6 p.m., Saturday and Sunday, at 5 Oliver Street in New York.